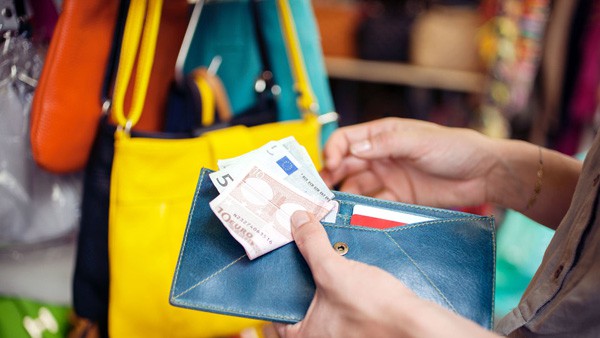 Travel industry is booming more than ever! More people are giving up their couch comforts to strap on their backpacks and hop on the next bus out of town. The attitude now, especially among the youth of today (that's us!), is to immerse in experiences, invest in activities,and to travel not as a mere pastime but as a way of life.
This shift in attitude is reflected upon the travel sector too. Did you know, in 2014, the tourism industry contributed $1.2 trillion to the global economy! So what exactly do travelers spend their money on? Analysis on travel and tourism statistics reveals some unique insights into the spending trends of travelers.
If a person spends $300 on average at their destination, then the biggest money hoggers are
Food and Drinks – $114
Transportation – $74
Shopping – $41
Travel accessories – $28
Entertainment – $15
Travel Insurance -$10
Other – $18
Here is the infographic breaking down the expenditure of travelers expenses for an average travel cost of $300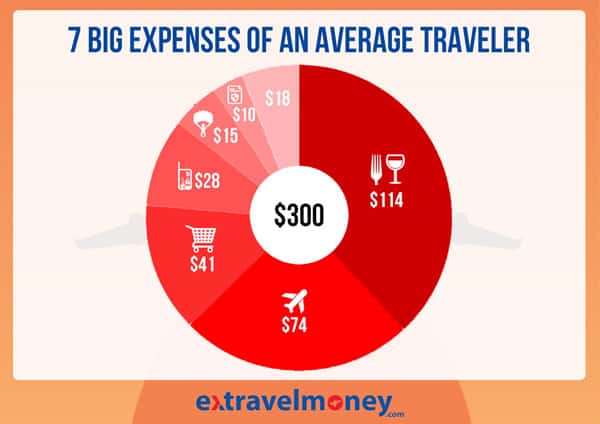 Eating, transportation, and shopping alone account for more than 75% of your expenses so make sure to set aside a big portion of your budget for that and plan the rest of your expenditure accordingly. This makes sense, since we go abroad mainly to enjoy and experience things we normally don't get at home. So indulge in pleasing your taste buds by eating exotic foods, take in the magnificent vistas of the country by traveling far and wide and enjoy every minute of your travel abroad.
However, there are certain expenditures that may lower  the quality of your experience abroad.  Spending money on the following things irritated travelers the most
Tax – 41%
Baggage fees – 36%
Booking fees – 34%
Seat selection fares – 27%
Resort/hotel fees – 25%
Tipping – 25%
In-room WiFi – 23%
Paying for these services bothered travelers the most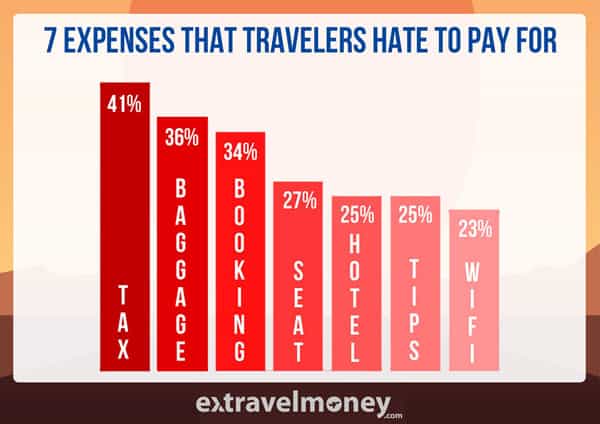 Around 1/4th of the respondents reported tipping to be a source of irritation. Tax topped the charts at 41% and hotel Wi-Fi at 23%. Baggage fees found opposition among 36% and booking fees at 34%. These numbers are indicators of what can be done right to increase the customer experience of travelers further and can be of great use to businesses dependent on the tourism industry.
So if you are a budget traveller and are looking to to save money on these extra expenses, then what can you do? This is what :
Plan your travel in advance and book flight tickets way before your journey date. There are many apps and sites on the internet which give offers for advanced bookings on flight tickets. Make your travel itinerary ready and save anywhere between 15-50% on your air travel costs!
Reduce your stay costs abroad using the power of the internet. Book your accommodation from travel stay booking websites. You might also be able to avail offers on your stay like free complimentary breakfast or reduced charges on your stay as part of their promotional offer.
Get your foreign currency requirements ready before your trip abroad. Use an online forex services website like extravelmoney.com and exchange your currency at the best rates. Also, buy a forex card and load it with the currency of the country you are planning to visit. Forex cards are better than using International Debit or Credit cards since there are no conversion fees or extra charges for using bank services while abroad. Remember if you are leaving this part for the last minute and say are planning to just buy currency from the airport, then most probably you'd end up spending a lot, since airport exchange usually gives the worst exchange rate ever.
Also Read: Comparison of Prepaid Forex Travel Cards vs Cash, Debit & Credit Card
These 3 general guidelines can help you save a good amount of money on your travels
The core of youth travel has changed significantly within the last ten years. Young travelers are backpackers with the latest gadgets like laptops, smartphones and are usually willing to spend more than traditional globetrotters. Also, they travel not only for pleasure but for self-development as well. According to a report by World Youth Student and Education Travel Confederation, about 22% of youth travelers want to learn a new language, 15 percent want to work abroad and gain experience, and 15 percent travel to study and improve their employability back home.
So if traveling is your passion, then don't hold back. Go out there and grab your opportunities!
Comments