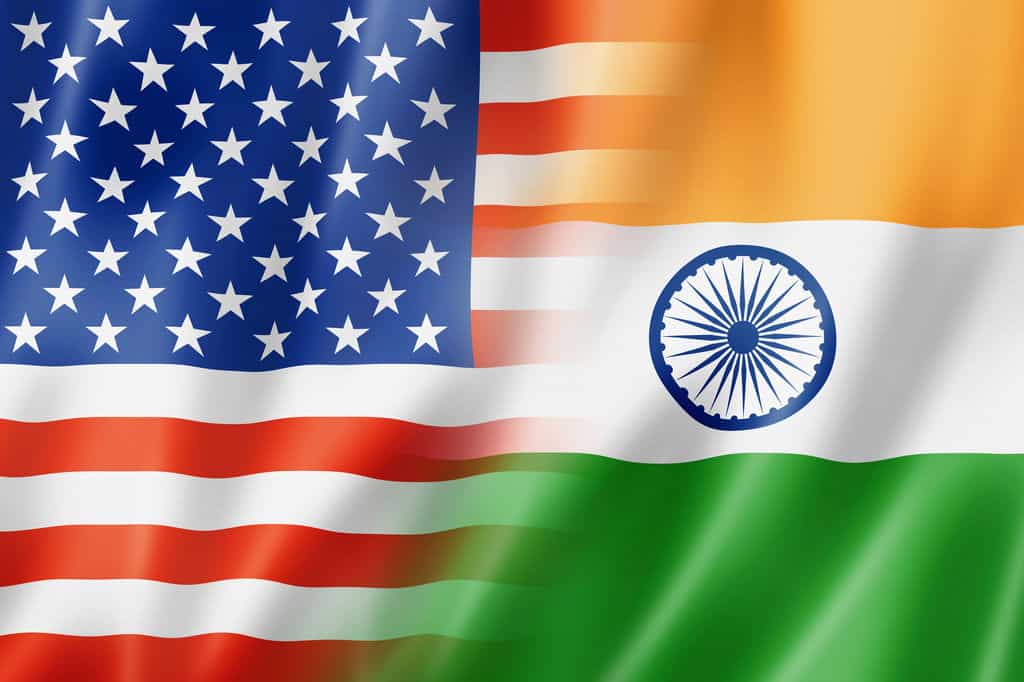 Image Source : inshorts.com
Did you know? It's expected that more than 2+ lakh students would be going to study abroad from India to USA this academic year!  Higher education in a US university has become synonymous with sophistication & success and everyone knows about the many study abroad benefits. If you are planning on going to US for study abroad, here is some information you should know about remitting money for US university fee from India.
How much can you expect the whole study abroad program in USA to cost?
Usually, a study abroad program in the US falls within the range ₹33 Lakhs – ₹60 Lakhs and on average around costs around ₹47 Lakhs. This figure varies for different countries and can be found here: Cost of a degree in the top 10 study abroad countries for Indian students
A significant chunk of this cost is due to the factors mentioned below :
Interbank charges and higher rates of exchange levied by banks and money changers can impact your total amount spent for studying abroad by 2-3%. Now this may seem like a small percentage, however remember that when you apply this percentage for the range of study abroad cost for US (₹33 Lakhs – ₹60 Lakhs) it would fall in the range ₹1 Lakh to ₹1.8 Lakhs!
Paying Tuition Fees in Instalments and sending money for maintenance from time to time. The nature of the above two activities is such that it happens over the duration of the study abroad programme which can be anywhere from 2-5 years or even more depending upon the chosen field of study. Now, as we all know the US dollar is appreciating in value when compared to the Indian Rupee. What this means is that the money you are going to end up paying out of your pocket for the study abroad programme will be higher than your cost estimates at the beginning of the study abroad programme. The appreciation of the US dollar value vs Indian Rupee will be reflected in this increased cost. So you would need to take this situation also into account when planning the expenses.
So how can you manage and reduce these additional costs? Well let's first look at how we can manage these massive costs with the help of scholarships and student loan facilities.
Scholarship: For students going to study in US, there are a number of avenues from where to avail a scholarship. A scholarship can remove the expenses by as much as half of the total cost to sometimes even the full cost. Yes! You can study abroad for free or for less cost in countries like Germany where there is minimal to no tuition fee. You can refer to this article here on scholarship opportunities available for Indian students in popular study abroad destinations including the United States: Study abroad scholarships for Indian students
Student Loans: After exhausting all possible scholarship opportunities only should you look into applying for a student loan. When applying for loans most people usually approach a bank in India and don't go any further. However, it is also possible to apply for international student loans from the country you are going to study from, and this option often get's overlooked. These are all the factors you should consider for your study abroad funding, before finalizing on a student loan. As an example let's consider education loan from India and international student loan from USA.
Loan from India
Loan from USA remittance
Can be availed relatively easily. Just requires collateral and acceptance letter by the foreign university.
Difficult to avail. In addition to your proof of funds, You would also need a US cosigner with good credit score.
Interest rate around 10.8%
Interest rate around 4%
E.g. Loan Amount ₹30,00,000(Loaned in Rupees)
E.g. Loan Amount ₹30,00,000(Loaned in dollars)
Interest paid = ₹3,24,000
Interest Paid = ₹1,20,000
Additional Costs Incurred
Dollar appreciation vs rupee. This means for the same amount of rupee, you would be able to send lesser amount of dollar the next year as the price of dollar keeps rising.
This amount is in a US bank account and is in dollars. Hence no worries of dollar appreciation vs the rupee. No risk of currency fluctuation here.
Currency conversion fee. Money changers don't convert your currency at exact market rates. When you convert your rupee to dollar for sending money abroad you'd be losing some money in the form of currency conversion fee applied by money changers
No currency conversion fee, since your currency is already in dollars. Just have to remit it directly to the concerned university.
 Remittance Fee. There are interbank charges on money transfer from one bank/money changer in India to another in USA.
No remittance fee. Since the money is already in a bank account in USA no remittance fee would be applicable.
So what's the next step? Finding out how to transfer money from India to USA for paying the tuition fees, maintenance money, medical expenses or a gift remittance.
Again, there are two ways of doing things here and let's take a look at them both :
| | |
| --- | --- |
| Sending Money Via Banks | Sending Money Via Money Changers |
| Bank rates for money transfer are pretty high in the industry and it's better to go for cheaper options. | Money changers give more profitable exchange rates than banks in general. |
| Banks usually don't take care of the paperwork for customers | Money changers are more customer friendly and usually take care of the paperwork for customers. |
| You may have to open an account with the bank before being able to access their money transfer abroad facility. | No need to open an account here. Money changers simply accept money from your existing bank account through a NEFT transfer and send it abroad to the beneficiary bank account. |
For a more detailed report on how money changers are better than banks read: 5 Smart Hacks For Saving Money On Study Abroad!
All banks and money changers cannot transfer money abroad for you. Only those institutions who possess an AD-II license are approved by RBI can send money abroad. Let's take a brief look at the rules and requirements of remittance.
Remittance Rule
As per present regulations, an Individual can remit up to US$ 2,50,000 for the purposes of :
Studies abroad
Maintenance of close relative abroad
Medical expenses abroad
Study Abroad Requirements for Remittance
In the first case, funds are directly transferred to the university and are sent under the "Studies abroad" category. The student just needs to submit the documents for their air ticket for the journey abroad, education visa, passport and PAN card (an I-20 form is also needed in the case of American universities).
For day to day expenses, parents can send money to their children under the 2nd category
"Maintenance of a close relative abroad). For this only proof of identity, residence and a PAN card are required.
For a more detailed look into remittance rules, read: 10 Remittance rules every Indian student heading abroad should know
We talked about how to manage the cost of study abroad with scholarships and loans. We shall now look at how to reduce or avoid the extra costs involved in the study abroad process.
To save up money on study abroad, technology comes to the rescue. Currently, there are new age technology backed online solutions like ExTravelMoney.com that provide online forex services and serve as an open marketplace where people can compare the prices of forex services provided by various banks and money changers and select the service that is most profitable for them. Customers can also get their forex product door delivered to their home and save up time on performing the required documentation, as that is also taken care of by money changers tied up with the platform. The complex rules and regulations associated with remittances from India are simplified here and the end user need not bother about the same.
ExTravelMoney offers currency exchange, remittance and forex travel cards at wholesale rates via it's tied-up money changers and thus customer gets a good deal for their money. Also since it's a marketplace format, whenever a customer raises a forex query, the money changers bid for the service needed with the best rates they can offer and thus the rates manage to be cheap and ultimately benefiting the customer.
The advantages of ExTravelMoney are numerous :
An online marketplace tied up with banks and money changers providing forex services. A one-stop shop where you can buy a forex service by comparing several vendors at the same time. No need to be dependent on just one money changer or bank
You can freeze live rates which will then be valid for the entire day and even set rate alerts to notify you when the rate of a currency you want to purchase touches a particular point in its value.
Since it's online 24*7, the platform can be accessed anytime and an order placed.
No need to worry about the documentation process for the forex services, as vendors will take care of it.
Door delivery of forex product.
With just a few mouse clicks, you can finish purchasing your forex product and leave the burden of dealing with the finer details to the bank and money changer agents.
You can save up to as much as ₹1,15,000 on remitting money for a US study abroad programme via extravelmoney!. Take a look at this infographic :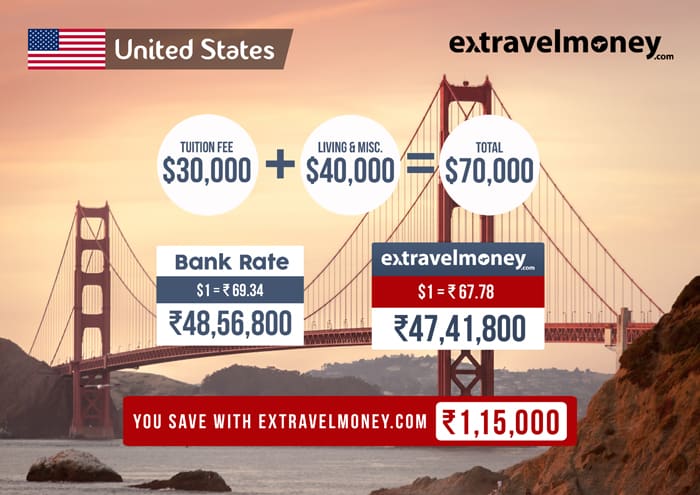 According to George Zacharia, CEO of ExTravelMoney "Our platform focuses on the use of technology to bring information to people regarding the forex choices they have and thus make an informed decision based on the forex data we provide like the rates of exchange set by individual banks and money changers. Currently, not many people are not aware of our service and thus buy forex products directly from a bank or money changer and do not get good rates for their money. We transparently display the prices from the beginning and hence customers get the knowledge to make a good decision. As of October 2016, ExTravelmoney has served more than 700 customers and completed more than ₹7 Crore worth of transactions."
A new era has started in the FinTech industry that promises to make remitting money abroad a much easier and transparent affair. Just like going online and buying a product from Amazon or Flipkart, now you can go online and buy a forex product from aggregator sites like ExTravelMoney which has more than 4500+ forex stores tied-up in its platform.
Also read: 10 Things To Do Before Going To Study Abroad
Comments