Europe is a vast continent, filled with history, traditions and stunning places to visit, due to its great age. If you consider the regular touristic destinations in Europe fascinating, wait to discover the places that are less known, but worth to be visited. So, instead of asking the help of a travel agency, which will take you in the most common places around Europe, keep reading as you are about to find out the hidden gems of the continent. Here are stunning places you need to see, places that are not that well-known for visitors. And don't forget to grab your camera, because you will find the need to immortalize what you will see.
1. Basilica Cistern, in Istanbul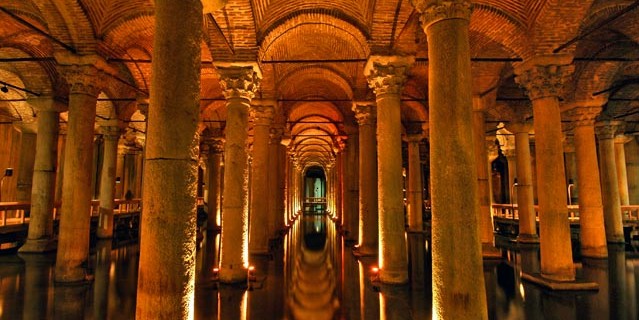 Image Source: travellingtoistanbul.com
Istanbul is one of those cities you need to mark on your map if you wish to see Turkey. Still, one thing remains undiscovered almost always, and that is the Basilica Cistern. It is overlooked because it is found under the city, somewhere it can't be spotted. The objective is what is left of the old Constantinople, with gorgeous marble columns, sunk in water. Dating back to the 6th century A.C., it was built to provide water to the imperial castle and the surrounding buildings. A one of a kind atmosphere will welcome you in the Basilica.
2. The Dervish Monastery, in Bosnia and Herzegovina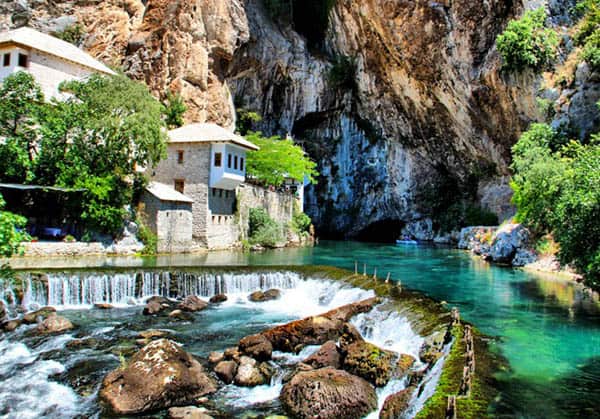 Image source: myweb.pro.vn
Another great thing about Europe is its beautiful and hidden monasteries. To remain safe and out of the sight of enemies, monasteries were built in the most unbelievable places. Thus, you may want to see the monastery found in Blagaj, a small village in the south-eastern region. Build around 1520, the monastery is right near the rocks and the Buna River, a karstic spring that emerges from the massive rocks. It entwines elements of both the Ottoman architecture and a bit of Mediterranean style.
3. The Kylemore Abbey, in Ireland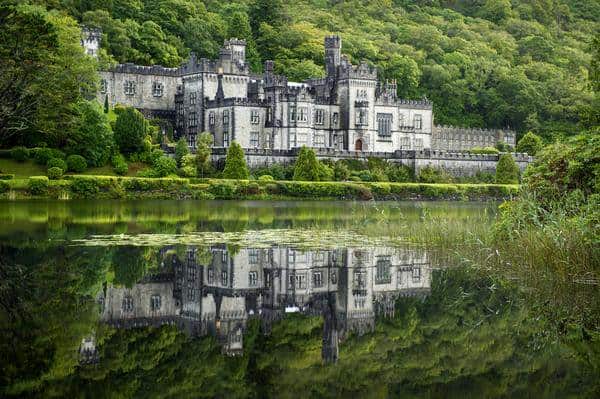 Image source: twitter.com
Ireland is spectacular due to its landscapes and numerous historical vestiges. So you may be delighted to see the Kylemore Abbey, a Benedictine monastery with the appearance of a majestic castle, dating back to 1920. It was built to house the Benedictine nuns, who left Belgium during the World War I. In present days, the objective remains a nunnery, but keeps its initial splendor. The impressive building has 40,000 square feet (3,700 m2) and more than seventy rooms inside.
4. The Peles Castle, in Romania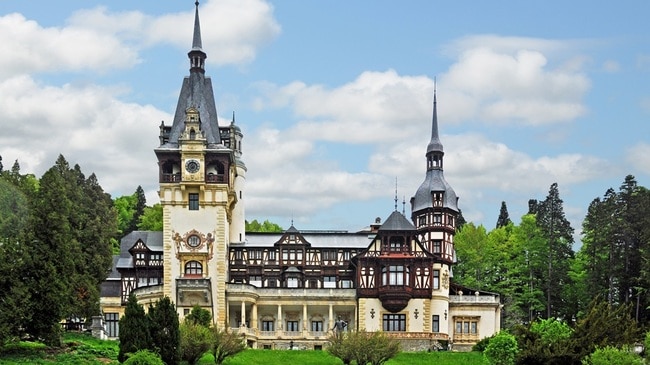 Image source: peika.bg
Within the country's borders, the Peles Castle is known as the most beautiful that is still standing, but not so visited by the one that do not know about its existence. Located in a mountainous region, in the city of Sinaia, the castle represented the summer residence of Romania's kings. Its architecture is one of a kind in the entire Europe, build between 1873 and 1914, following the desire of King Carol I. The interior is as breathtaking as the exterior, being decorated by the most appreciated artists of the time. So if you wish to visit Romania, this is a must-see objective.
5. Meteora, in Greece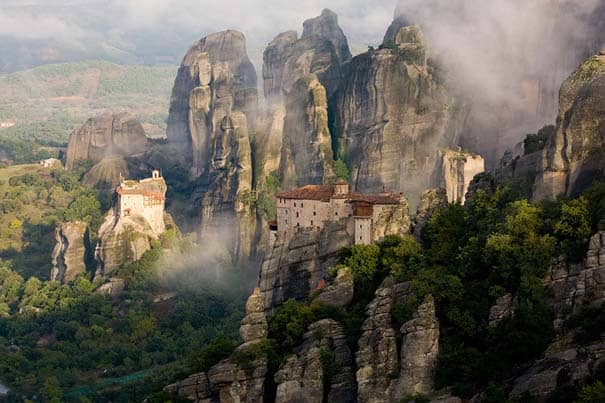 Image source: otherside.gr
In a free translation, Meteora means "in the middle of the sky", and it is one of the most important and impressive complex of Eastern Orthodox monastery in Europe. The intriguing fact about the set of six monasteries in the area is that they are all built on massive rock pillars, made out of natural sandstone. The area was named a UNESCO World Heritage Site, due to its unicity, so you may not want to miss it if you are spending your vacation in Greece.
Also Read: 7 Asian Destinations Offering Same Experience As Europe!
6. Monschau, in Germany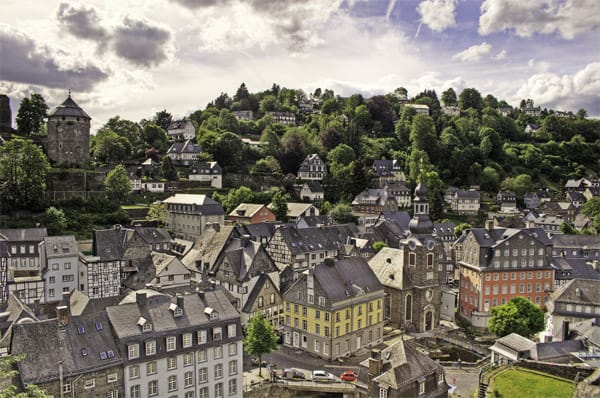 Image Source: flickr.com
If you want to experience living in a different century, try visiting the city of Monschau, in western Germany. The entire area appears like frozen in time, filled with half-timbered houses and narrow stone-paved streets, just like in the middle ages, as they have remained unchanged for the past 300 years. It still has a town center around an old castle, where festivals and fairs take place around the year. The first mentioning of this city in historical records was around the year 1198. It is definitely a part of Germany you will like to see.
7. Lugano, in Switzerland
Image Source: internations.org
A gorgeous city in Switzerland, close to the border with Italy, located near a lake surrounded by the Lugano Prealps. Sounds interesting already? Even it is in Switzerland, the city mainly speaks Italian. It is a mesmerizing city, filled with gardens and gorgeous villas, with breathtaking views of the surrounding mountains. It is an interesting entwining of a place that inspires world-class, with the picturesque appearance of a small city. The beauty of the area started to attract more and more famous people to the city, getting its name of Monte Carlo of Switzerland. Thus, you may want to see it as well.
8. Bonifacio, in Corsica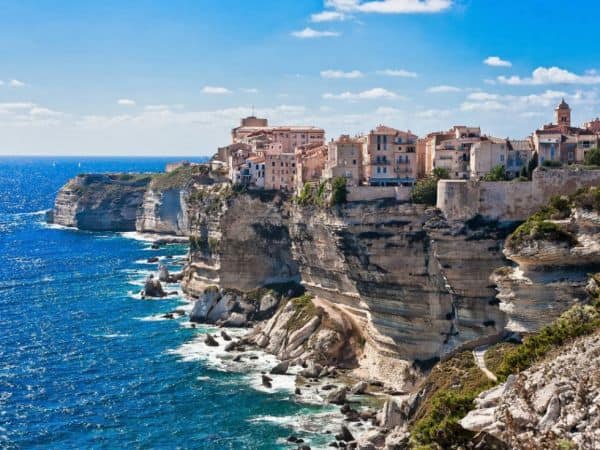 Image source: holidaymapq.com
Bonifacio is a stunning city, on the island of Corsica, in France, found at approximately 70 meters above sea level, on the edge of the cliffs. You won't see anything like this anywhere else, and if you wish to visit it, you will constantly feel the breeze and waves of the Mediterranean sea. It was once a paradise for seamen, but now it remained a gorgeous port for very expensive yachts. If you do there in the summer, you will be able to enjoy its superb beaches, together with the unique appearance of the town.
9. Bled, in Slovenia
Image source: trthaber.com
Slovenia is not very frequently chosen as a vacation destination in Europe, and that is a shame because there are many wonderful things to see here. One of these places is Bled, a gorgeous little town, found on the margins of a lake. The breathtaking particularity of this city is its castle, situated on a small island in the middle of the lake. It doesn't matter when you visit Bled because the views will be spectacular anytime. Although, a bit of drama may be added during autumn and winter, due to landscape's particularities. Its history is quite large since it was established that the area was settled since the Mesolithic times. So make sure you don't miss visiting it.
10. Cappadocia, in Turkey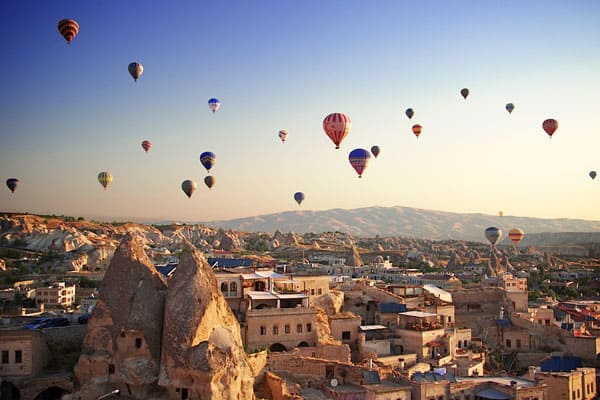 Image source: wondertrip.jp
In case you wish to visit a town like on other on this planet, set your destination towards Cappadocia, Turkey. You will be amazed to see dwellings carved into the pillar-like rock formations of the area. All of these interesting rock formations were found due to volcanic activity, approximately 9 to 3 million years ago. The rather soft rock of the volcanic deposits allowed people to carve houses, monasteries and churches inside of them. From a distance, especially when the evening is coming, and the carved settlements start to turn on their lights, it appears like something taken from a fairytale.
11. Saint-Veran, in France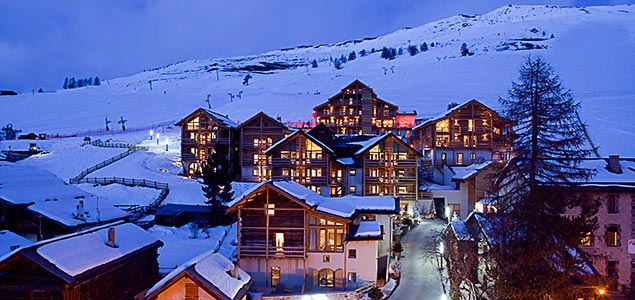 Image source: twinner-saint-veran.fr
You may be stunned by the appearance of this small French village, hidden by the greatness of the French Alps. It is a typical mountain village, with breathtaking views and a relaxed atmosphere. It is the third highest village in Europe, at an elevation of 1,756–3,175 m (5,761–10,417 ft.). It is also located in the Queyras Regional Natural Park. Thus, if you love nature and waking up to greet the majestic mountain peaks, this is a place you shouldn't miss. The small village still puts an accent on agriculture and woodcraft, very much like in the old days, this aspect giving it its picturesque appearance.
12. Ronda, in Spain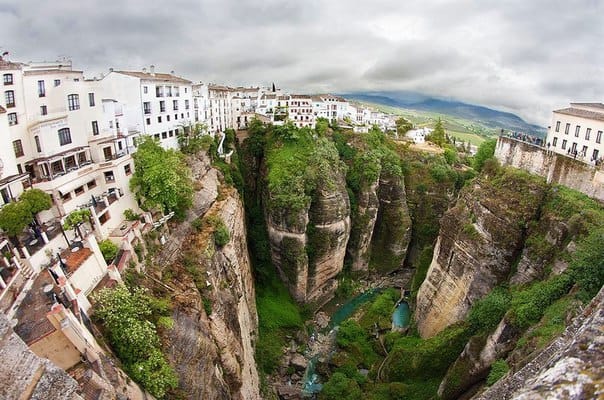 Image source: vk.me
Ronda is a pretty unusual, but gorgeous, city in the Malaga region of Spain. Located in a mountainous area, about 750 m above sea level, Ronda is pretty much carved in the surrounding rocks. You will find evidence, around the city, of settlements since the Neolithic period, showing that people dwelled in the area since prehistoric times. It is filled with imposing bridges, raising high above the deep canyons, which will offer you a stunning view. Puente Nuevo is the tallest bridge, having 120 meters (390 ft.) above the floor of the canyon. Besides the beauty of the city and its bridges, there are many historical vestiges you will find here, making this place worth to be visited.
Now you realize that Europe is not all about Paris and London. There are plenty of breathtaking places that are not so popular, especially among Indians. Most of these places are cost effective too. See Euro rates today.
Also Read: Going to Europe? Never Accept The Euro 500 & Euro 200 Currency Note
Comments