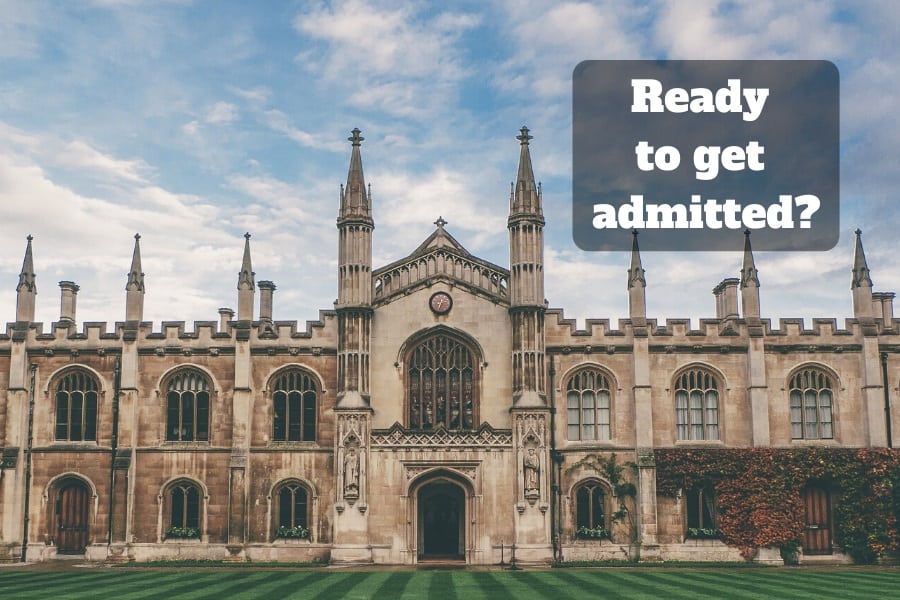 New Zealand is one of the most popular study destinations among Indian students. This is because of its internationally recognized universities and excellent work opportunities. If you are looking to make this dream destination your study abroad location, then you've come to the right place! In this post, you'll get the correct information regarding how to successfully apply for admission to a university in New Zealand.
1. Choose Your Course And Institution
The first and foremost step to do when going to New Zealand for higher studies is to find a course that fits your dream profession and to choose a college that has this course.
The best universities in New Zealand are;
University of Auckland

Massey University

University of Canterbury

Eastern Institute of Technology

Victoria University of Wellington

University of Waikato

Unitec Institute of Technology

Southern Institute of Technology

Lincoln University

Auckland University of Technology

University of Otago
Read: 9 Best Universities in New Zealand for MS Popular with Indian Students
The major places to study in New Zealand are Auckland, Christchurch, Hamilton, Wellington, Napier-Hastings and Invercargill. You will find many institutions here that offers a wide range of educational programs and opportunities. 
University, Institute of Technology and Polytechnic (ITPS), and Private Training Establishments (PTE) are the major types of institutions offering higher education to international students. 
Research and filter universities according to the course you want to take, education quality, university ranking, course structure, course fee and facilities available for international students. 
The credibility of the university or the college you wish to apply to can be checked on the official website of the New Zealand Qualifications Authority (NZQA).The government of New Zealand has provided all the information regarding the types of institutions on their official website Study in New Zealand. From engineering to business management to fashion designing, you can choose any course that fits you.
2. Check Your Eligibility Criteria
Your eligibility criteria for studying in New Zealand largely depends on two factors;
The course you have selected 

The University from where you are planning to do the course
Depending on the course and university, your eligibility criteria can differ. 
Universities would be looking at your scores in school/college level. But more importantly, your English Language Test Results play a huge role in deciding your admission.
The four main English Language Tests are;
IELTS – International English Language Testing System

TOEFL – Test of English as a Foreign Language

PTE – Pearson Test of English

OET – Occupational English Test
Generally, the bare minimum score required for each test are;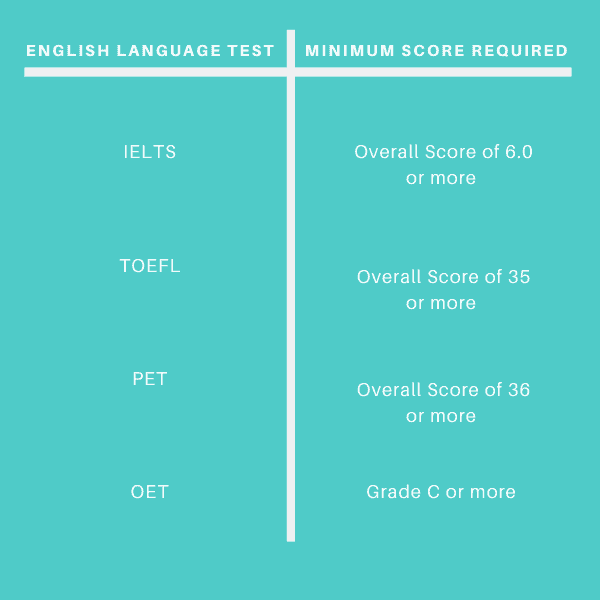 3. When To Apply?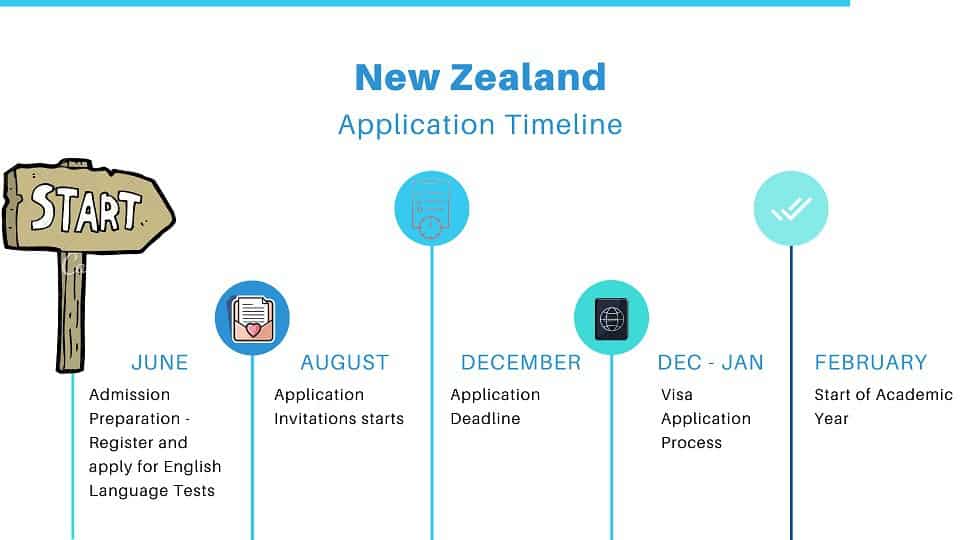 Academic Year – The Academic Year in New Zealand starts from February (February Intake).

Admission Intakes – Most universities start accepting applications from August onwards and have a deadline until December. 

Admission Preparation – It is best if you can start your admission process 6 months before the application deadline. Since the deadline is in December, this would mean, the month of June. 
As part of admission preparation,  you would have to take your language tests and other relevant tests (if any), at least 3 months before the deadline. 
The final three months must be utilized for filling out the application form for the visa so that you do not end up messing in the last minute.
4. Documents Required For Admission
Once you have chosen your college/university then apply for admission by gathering the required documents.
Academic Transcripts – You would need to submit all your academic documents like 10th, 12th and undergraduate/post-graduate degree certificates (as applicable)

A Statement of Intent – Mentioning why you want to pursue a particular course at the selected university

English language proficiency test scores (IELTS, TOEFL, PET scores etc)  and other important details which university lists to complete the process of admission.

Proof of funds or financial aid – This could be your bank statement showing sufficient funds to cover your education expenses in New Zealand or an offer for a scholarship.
Almost all the universities in New Zealand have their own website where you can make the application online. The application can be either through their own portal or by e-mail with a prescribed format (found on the website). 
Note: Each application may cost you anywhere from NZ$25 to NZ$50. So apply only to colleges where your application has a high chance of acceptance. 
After applying online, all you have to do is wait until you receive your offer letter from your university. This letter is required to move towards the next step, which is your New Zealand Student Visa Process. 
Also Read: The Complete Guide For First Time Indian Students In New Zealand
Comments