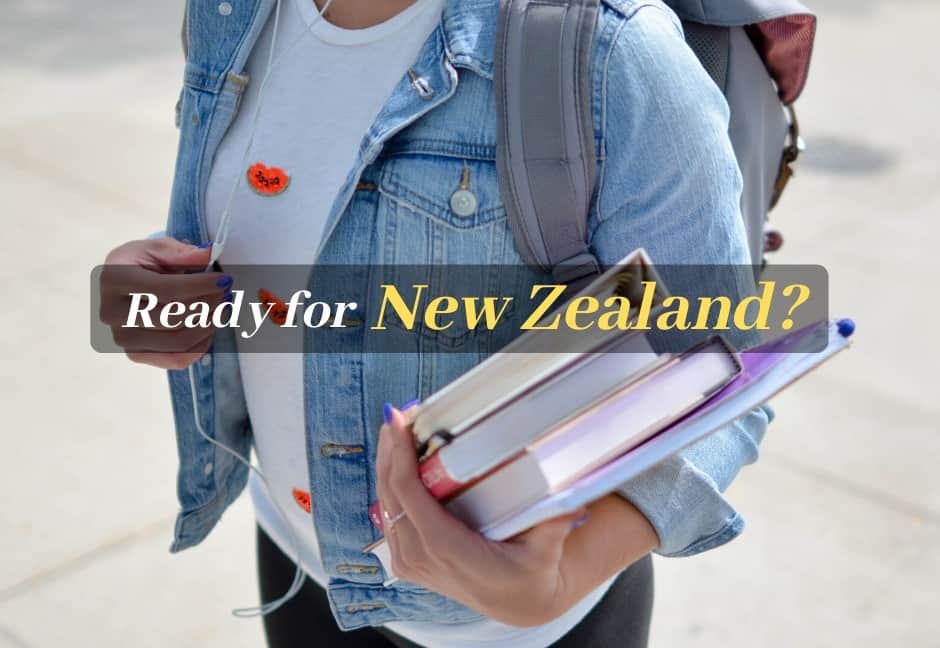 Covid-19 Update

Update: From 10th August 2020, New Zealand has temporarily suspended overseas visa applications for a temporary visa, including student visa for three months.

New Zealand has imposed border restrictions on most of its travellers hence student visa holders can no longer enter New Zealand.

Students who already have a valid visa but are currently outside New Zealand can pursue their opted courses with their education provider online. Student visa holders will not be able to travel to New Zealand with their visa if the 'enter before date' has passed. When the restrictions are lifted, students need to re-apply for a new visa to enter New Zealand.

Students outside New Zealand who have applied for a visa can also study online. They will have to provide evidence of their online study to support the visa application once the border restrictions are lifted. Online or offline mode of education, students need to still meet the standard visa requirements to acquire a valid student visa.
So you are a first-time Indian student going to study in New Zealand?
Have thousands of queries in your mind such as procedures to be completed after landing at the airport there? Things to bring and not to bring to New Zealand? Bank procedures for a student? Way to find affordable accommodation, transportation options, and availability of part-time jobs etc.
Here we present to you the complete guide for the first time Indian students in New Zealand and help you settle fast in your new environment.
Landing At The Airport In New Zealand
Your flight gently makes a touchdown at the airport in New Zealand and you disembark. Now you'll have to clear Immigration and customs before making your way outside. 
The first thing you must do is to deal with the Passenger Arrival Card, which will be given to you.  
What is a Passenger Arrival Card?
It is a legal document that you must fill out and submit to the customs at New Zealand airport. This card is for students to declare anything and everything you carry with you which are likely to pose a biosecurity risk to New Zealand's fragile and unique environment as per the customs.
Items To Declare In Passenger Arrival Card
Any food

– You can bring food such as commercially prepared and packaged foods, baked goods, confectionery, tea, pickles (yes packaged pickles) etc. Again, all food must be declared.

Animals or animal products

– including food, souvenirs with animal products, raw wool, etc.




Items like feathers, shells and clams, Ivory, turtle shell items, coral, snakeskin or whalebone products etc cannot be taken to New Zealand.

Plants or plant products

– including nuts, seeds, medicinal products, etc.

Other biosecurity risk items –

including animal medicines, biological cultures, organisms, soil or water.

Items that have been used for outdoor or farming activities including equipment used with animals, plants or water

Alcohol and tobacco

over the duty-free allowance.

Prescription medicines –

All the medicines that you are taking there (Paracetamol, cough syrup etc) need to have a prescription, else the medicines will not be allowed.

More than NZ$10,000 in cash
More than NZ$700 worth of goods – Your clothes, toiletries, etc not included.
Even if you are unsure about an item, it's always the best to declare to avoid any further trouble. If any undeclared item is found by the quarantine officer or the detector dog, then you will be fined instantly with a whopping amount of NZ$400 and the items will be confiscated or destroyed!
All you have to do is to follow the rules and stay free from troubles.
Items banned by Customs in New Zealand
 The customs in New Zealand is one of the strictest in the world! They have a long list of items that are banned. This is because of their rigorous biosecurity rules. 
Food items

such as

fresh fruit and vegetables, fresh meat or fish, honey and bee products.

Hazardous Materials

like batteries, Matchsticks, Cigarette lighters, lighter fuel and lighter refills.

Weapons

(without a permit), and self-defence items such as Pepper Sprays. 

Objectionable Publications

– including videos, digital images, books or magazines that depict crime, pornography etc. 

Controlled Drugs

(without a prescription)
A detailed list of prohibited items can be found on the New Zealand Customs website.
Documents Required From India
All the required academic certificates

Birth certificate

Offer letter from the University

Driving license (if you already have one) – You can use your home country's driving license in New Zealand to drive for a year. To get a license in New Zealand is a tiring process which consumes a long time and can turn expensive for students.
Don't make the costly mistake of leaving behind any of your important documents. It'll cost quite a penny to mail them to New Zealand.
Essential Things To Bring From India
All your clothing essentials for at least a year has to be brought, as the cost of clothes in New Zealand is pretty high! Especially stock up on winter wear such as jackets, thermals etc.

Toiletries such as toothbrush, toothpaste, razors/trimmers, shower gel etc.

Umbrella. It acts as a shield during all the season from showers to snowfall.

Laptop for your university use. The operating system must be genuine and not cracked.  All the electronics items must be of 240v-250v.

To meet the initial expenses in New Zealand, bring some cash. Most of the students take around NZ$1000.
You can buy New Zealand dollars at the best rates through our website;
Bank Formalities – Opening An Account, FTS & IRD
Opening a bank account in New Zealand
When going to New Zealand to study abroad, one of the most important things you must do is to open a bank account there.
Why is opening a bank account in New Zealand one of the most important things?
It'll help you in receiving funds sent from India to meet the expense of studying and staying there.

You'd be able to manage your money better and can apply for a Debit card too.

When applying for a part-time job in New Zealand, having a bank account is a must. Employers would be able to easily pay your salary through your bank account.

The money you earn through your part-time job can be sent back home through your bank account. This is especially useful and many students do the same.
Opening a bank account in New Zealand is quite easy. You can even do that before arriving there as some banks have such a provision.
The major banks in New Zealand are;
ANZ (can open an account from India)

ASB (can open an account from India)

BNZ (can open an account from India)

Kiwibank (can open an account from India)

TSB Bank

Westpac
FTS – Fund Transfer Scheme
As part of going to study in New Zealand, you might have come across the term FTS (Fund Transfer Scheme).
So what is FTS?
Fund Transfer Scheme is a specific scheme operated by the ANZ Bank of New Zealand for students from India, China, Sri Lanka and the Philippines. 
As per the scheme, students can open a bank account in ANZ bank from their home country itself. Funds can then be sent to this account which will help them to meet their expenses in New Zealand. The minimum amount of funds to be sent is NZ $15,000 per year.
How does FTS work?
Suppose you have NZ$15,000 in your FTS account. Then the set amount you are allowed to withdraw every month is NZ$1250 (15000/12). You can transfer money to the FTS account to withdraw more every month.
You can only withdraw a set amount each month. This is to ensure you do not overspend or run out of money in New Zealand. This set amount is based on the total amount in the FTS account and the duration of the course.
One of the main purposes of FTS, early on in the New Zealand student visa application process is to show proof that you have genuine access to funds to support yourself.
Please Note:
Applying for FTS is not mandatory, nor would successfully applying for FTS scheme guarantee a student visa. If after applying for FTS, your student visa application is rejected, the amount will be refunded to you upon initiating a request to the bank.
IRD Number – Inland Revenue (Department) Number
After opening your bank account, the next step is to apply for IRD number or Inland Revenue (Department) for paying taxes for the jobs you do in New Zealand. This is sort of like your PAN card in India.
To get this number either you can apply via the official website or visit the nearest post office with a copy of your passport, a photo and a letter from the university proving your student status there. IRD will then be posted to your address. IRD number is your official eligibility to work in New Zealand (part-time job in student's case).
There is a tax code for everyone. Students, employees, students with two jobs all have different tax code. This code helps your employer or payer work out how much tax to deduct from your pay, benefit or pension. You can find your tax code from the official website.
When you join a job, your employer will provide you with a form to fill up. You need to correctly fill in the tax code so that they can deduct the right amount of tax from your salary. If you provide the wrong tax code, you may end up receiving a fine. These procedures have to be followed for making your job legal. Illegal ways of working can result in deportation!
Finding Accommodation In New Zealand
Finding accommodation in New Zealand is quite easy.
There are many groups and pages on Facebook and other social media, where you can get regular updates on student accommodations. These groups have many members who will post if they need a companion for their room or apartment. When you find a suitable place you can then ping them with all the relevant information. You can also post your requirements on such pages. Search for 'Indians in New Zealand' or a more precise one with your location like 'Auckland Indians' or similar stuff.
The other way is to find accommodation through the website trademe.co.nz. This website is the OLX of India. 
College accommodations are usually very costly. Some colleges provide accommodation for the first two weeks for a small cost. You can definitely use this option and search for accommodation outside in these two weeks time. If you have friends or family in New Zealand, the best way is to arrange accommodation through them or with them so that you can stay stress-free.
It is always best to stay in shared accommodation to have control over your expenses.
Transportation Options In New Zealand
We forgot to mention this before, but from the airport in New Zealand, some colleges provide free pick up and drop facility. Check with your college if they have this. 
Now, talking about the transportation options in New Zealand, public transportation isn't really strong. But in your initial days in New Zealand, only public transportation can come to your rescue. Payment for public transportation system can be made either in cash or through a special card. These cards go by different names in different cities. 
In Auckland, these cards are called Hop cards. In Wellington, it is called Snapper card. Metro card in Christchurch and in Hamilton it is Busit card. You can check the routes, timings and the availability of buses, metros and other means through the respective card app which you can download. Card is the cheapest as well as the most convenient option as it provides concessions to students
If you have enough income or savings then buying a second-hand car would be the best option. You can look for such cars on TradeMe.co.nz. You can use your driving license for a year to drive in New Zealand.
Part-time Jobs For Students In New Zealand
The first step towards a part-time job is to format your CV and cover letter to the one prescribed in the official website of the New Zealand government. This is a very important step as there are chances to get rejected otherwise. 
There are many websites for students to find opportunities. Student job search is the first one. Only students can have an account in this. You can apply for jobs through this all along your course and one year after the completion of your course. The process is just like with any other job portals. Input all the necessary details with your visa copy and search for jobs with appropriate keywords of the profession or field you would like to get hired in.
Other two major websites are Trademe and Seek. In Trademe and seek the process is pretty much the same. All you have to do input all the relevant information and upload your CV and cover letter and search for your preferred job in the preferred location. Anyone can apply for jobs through these and not just students. There are many more sites than above mentioned like Picky, Switch up, Urnextgig etc.
Another way to find a job is through referrals. Your lecturers, family members, friends or any acquaintance of yours in New Zealand can refer you to a job. Referrals work most of the time as it involves the factor of trust.
Walk-In is another way through which you can reach your job. Some shops will have the hanging board of 'staff wanted' and you can just walk in and apply for it. 
The permissible time to work is 20 hrs/week and working during holidays can let you earn a lot. In fact, during breaks such as Summer holidays, Winter holidays and Spring break, you can work for more than 20 hours per week. The minimum wage in New Zealand is $16.50 per hour. How much you earn is the key to save and spend. To apply for a post-study work visa, you need to show NZ$4800 in your account and most of the students secure this through part-time jobs.
Expenses In New Zealand For An Indian Student
Your expenses purely based on your lifestyle. One can definitely have sufficient earnings when in New Zealand. Bill payments in New Zealand are mostly weekly/ fortnightly and monthly. Salary, Rent and food bills are settled every week or week or fortnight. Electricity, internet, water and mobile plan bills are paid for a month. 
The electricity bill for a month would be around NZ$70-120. So when you share with 3-4 people then it would be 1/3rd or 1/4th of the total amount. Same goes with the water bill. The water bill for a month would be  NZ$50-80 and when you share then it can go down to 1/3rd or 1/4th.
Regarding your phone bill, the major mobile networks in New Zealand is Vodafone, Spark, Two degrees and skinny. Two degrees and skinny provides reasonable plans for students. Average plan for students is NZ$19 that includes ample calls, texts and internet (500MB to 1GB). You can get your sim from the kiosks at the airport with your passport copy. Most places will have Wi-Fi in New Zealand.
Few cost-effective supermarkets in New Zealand are Pak'nSave, Countdown and New World. The most economical one among them is pak'nsave. So make sure to get your essentials from Pak'nSave and not to overspend. Indian groceries are generally costly in New Zealand.
---
Our general advice to Indian students going to study in New Zealand is to always stay updated with the information from the immigration website of New Zealand. The rules change every now and then in New Zealand. 
If you are already a student in New Zealand, we are sure you will also have something interesting to contribute. Notify us more with your information in the comments section below.
Also Read:
11 best universities in New Zealand for MS, popular with Indian students

10 adventurous things to do in New Zealand for daring travellers
Comments