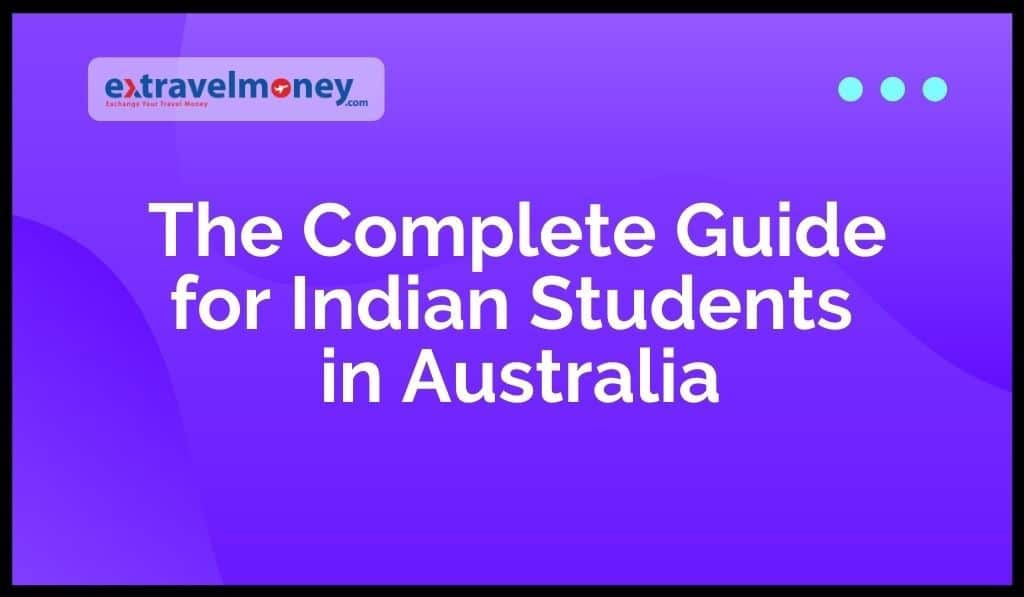 So your student visa to Australia has been approved and your travel date is almost around the corner. We know first-time Indian students will have a hard time settling down during their initial days. 
Here we provide a step by step guide for Indian students in Australia covering all the basics needs.
Landing At The Airport In Australia
The initial step for landing in Australia starts even before you reach the Australian airport. 
You will be provided with an Incoming Passenger Card in the plane. Fill this card to clear the immigration and customs of Australia.
What Is An Incoming Passenger Card (IPC)?
Incoming passenger card or arrival card is a legal document provided by the Australian Border Force to provide passenger identification and an effective record of a person's entry to Australia.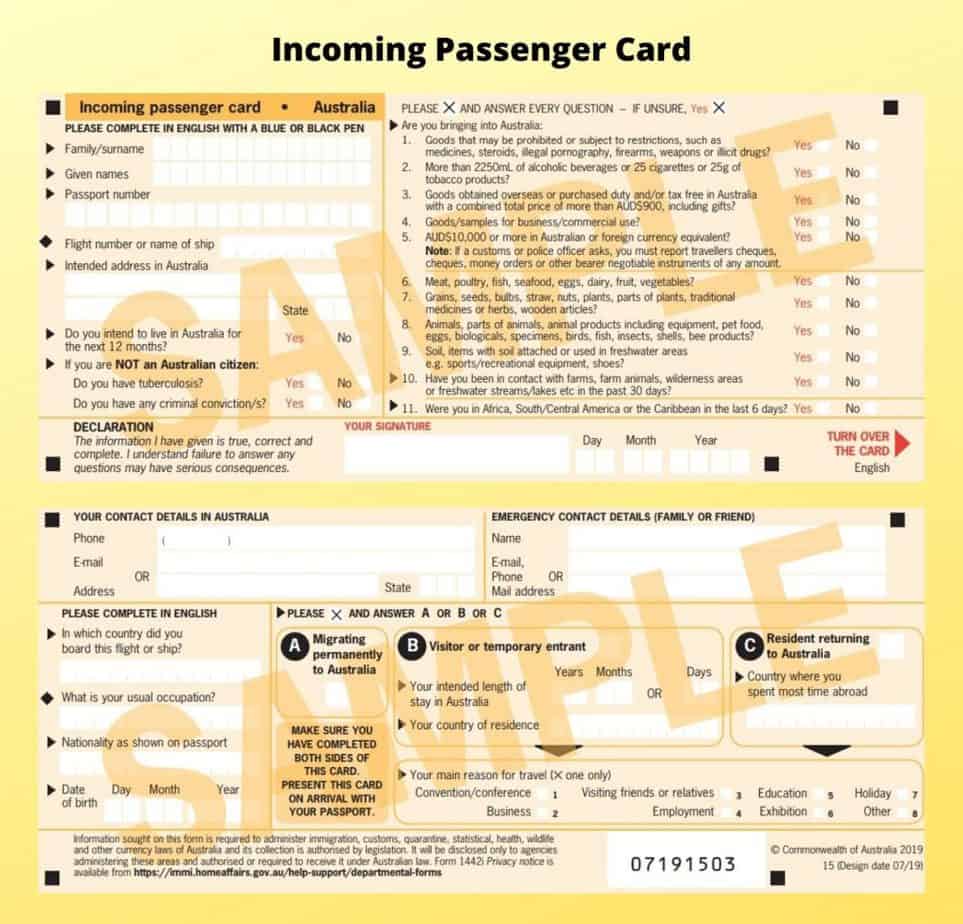 You need to fill in important details in the incoming passenger card such as your passport number, flight number etc.
Now we will brief about the items a student can bring in and cannot bring in and what all items need to be declared at customs.
Items That Can Be Taken To Australia And Require No Declaration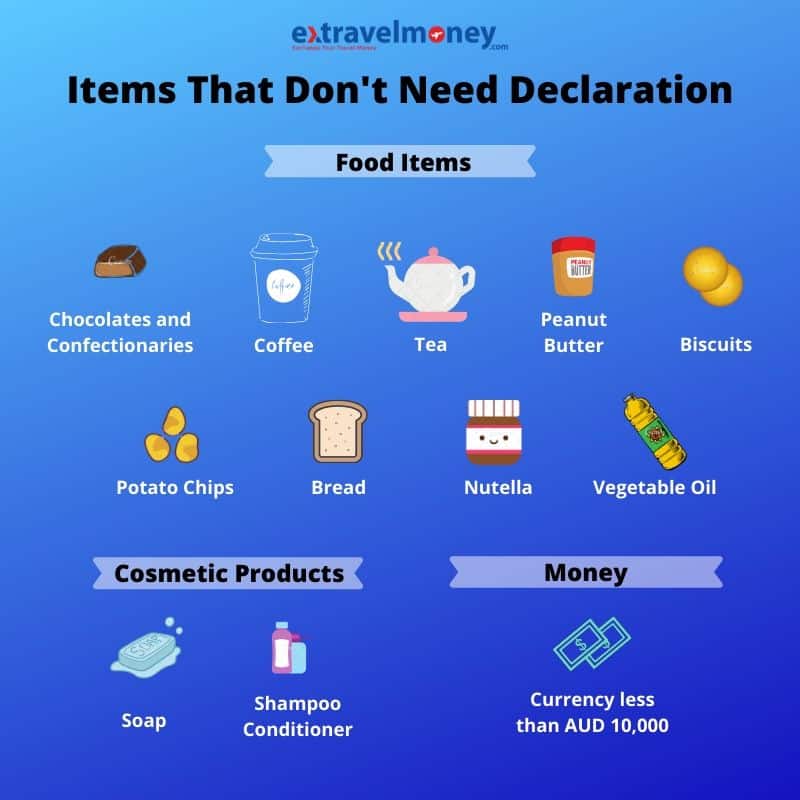 Items That Require A Declaration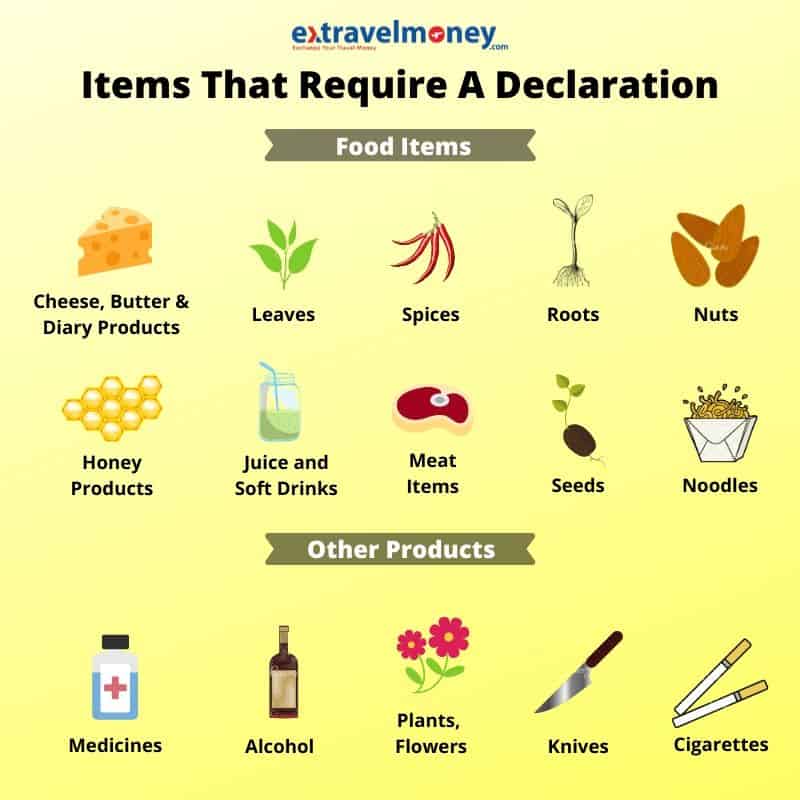 Items That Are Banned In Australia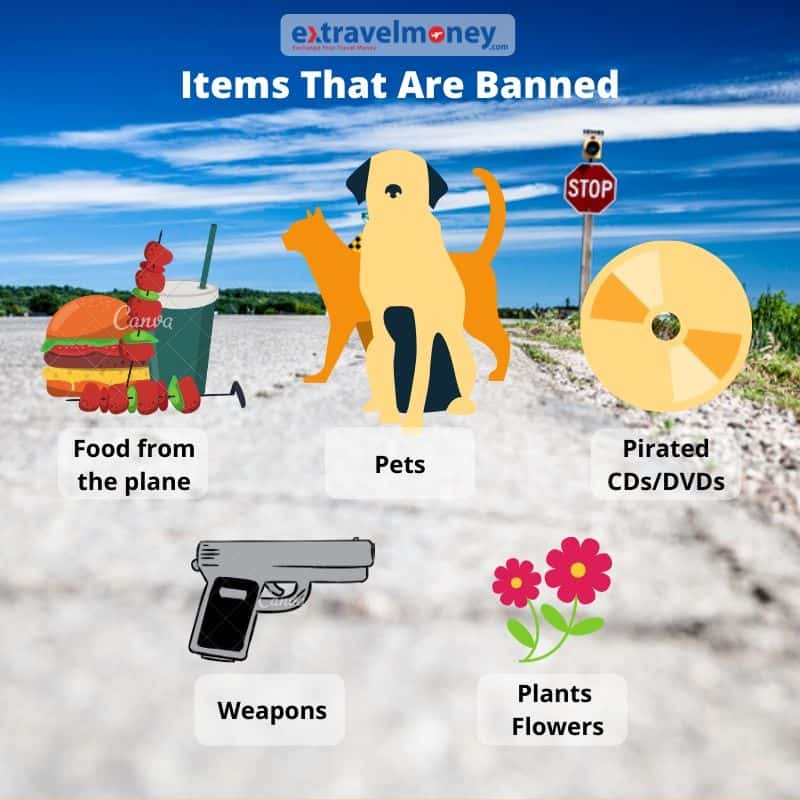 Everything you bring into Australia will be specially monitored as the Australian Border Force is one of the strictest in the world. This is to protect the pristine culture and environment of Australia from unwanted pests and diseases.
There would be many items that you are unsure about whether to declare or not but we recommend you to declare all that you brought in to be on the safer side. 
If any undeclared item is found by the quarantine officer then you will be imposed with a fine of Australian $340 to $66,000 or 10 years in prison!
To know the full list of items that you can and cannot bring through the airport in Australia, take a look at their official website; 
Australian Border Force – Item Restrictions
Customs Clearance, Baggage Claim And Quarantine Inspection
Keep your passport, incoming passenger card and boarding pass ready. These documents will be required to go through customs. 
Now proceed to claim your luggage from the carousel. Once you pick it up, head straight to the Quarantine Area for further inspection. Here, your bags will be inspected by officers. They might ask questions regarding the things you have packed in the bag. 
Always make it a point to pack the bag yourself so that you know exactly what the contents of the bag are and where they are located. 
Apart from officers, there will be sniffer dogs for inspection. They can sniff out any high-risk items from your bag. Anything found undeclared will have consequences of penalty.
With this, you have almost completed the airport formalities.

Exiting From The Airport In Australia
The next thing you need to do is to find a source of transportation to reach your accommodation. 
Some colleges/universities will provide a free pick up from the airport. In that case, you need to book this facility in advance so that your college can arrange it accordingly. But if they do not provide you with any pick-up service, then you may need to find an alternate source to reach your destination. 
If you have any friends or family in Australia, you can ask them to pick you up from the airport or the other option is to utilize public transport. Most cities in Australia have trains, buses and cabs that provide airport shuttle services. Apart from public taxis or cabs, there is also Uber, Ola or Bolt (Formerly Taxify) which runs at a much cheaper rate. You can even share a ride in a taxi with another person at the airport.
One important thing you need to take care of before heading to Australia is to buy Australian Dollars to meet your initial expenses there, like paying for your very first transportation to reach your destination or for the food, sim card etc. 
Getting your currency exchanged at the airport will cost you a lot. Also, the Indian Rupee cannot be exchanged at the airport in Australia. So you should be buying Australian Dollars from India itself.
You can buy Australian dollars at the best rates through our website;
Things to bring to Australia as an Indian Student
Documents To Bring With You From India
Passport and e-visa

All your academic certificates and documents

Confirmation of enrolment letter and offer letter from the university

Birth certificate

Driver's license (you can drive with your Indian license if it is current and valid).

Medical history documents if any

Passport size photographs
Note: Always have sufficient photocopies of all your documents with you. File it in a pouch for easy retrieval. 
Don't make the costly mistake of leaving behind any of your important documents. It'll cost quite a penny to mail them to Australia.
Essentials To Bring From India
Appropriate clothing according to the climate and weather conditions

Footwears – running, flip flops and college wear

Bedsheets and towels are pretty expensive in Australia so bring from India

Umbrella for sunny, winter and rainy weather conditions

Basic cooking utensils

To meet the initial expenses in Australia, bring some

Australian Dollars

.

Toiletries such as toothbrush, toothpaste, razors/trimmers, shower gel etc.

Laptop and mobile chargers
Finding Accommodation In Australia
There are two types of accommodation a student can opt for:
On-campus
On-campus accommodation has many conveniences. 
You do not need to move around a lot, from class to accommodation and vice-versa. Also, you can utilise all the facilities provided by the college like gym, pool, library etc. 
But the biggest bummer of this option is the pricing! On-campus accommodation costs around A$30 on average per day! You will have to pay an admission fee of almost around A$700-800. Also, you will have to get into a contract when choosing on-campus accommodation. If you find a better accommodation option later and if you breach the contract then you will have to pay a penalty which would be around A$500-600! This is when off-campus accommodation comes into play.
Off-campus
Before choosing your accommodation you need to consider a few factors:
Budget- how much would you like to spend on your accommodation

Area – which area or suburb would you like to live in

Facilities – such as pool, gym

Location –  how close is to your university or city

Availability of public transportation
When you plan to rent out an apartment or room, you need to specifically inquire whether the rent is inclusive of bills. By bills, we mean electricity, water, gas and Wifi.
Shared accommodation is the best option when it comes to cutting down on expenses. More the people with whom you share your accommodation, the less you need to pay. If you choose a location in a very happening area then the rent would be very high obviously and if you choose an area little outskirts to the city then it can less by around A$200-300 a month.
You can find accommodation through websites like Gumtree and Flatmates.  You do not need to provide payslip or rental history for accommodation through these websites.  When you are a newcomer, you will not have a payslip and rental history of course. 
There are many groups and pages on Facebook and other social media, where you can get regular updates on student accommodations. Just type and search for 'Indians in Australia' on Facebook Or specify your location and suburbs for a more clear result.
For student-specific accommodation, you can check out websites like student.com and university living .com. An offline option like the student services office of your university, student notice board, newspapers and real estate agents can also help you find accommodations.

Bank Formalities In Australia For Indian Students
Opening A Bank Account In Australia
Opening a bank account in Australia is a very important step for Indian students to manage their university tuition fees and other daily expenses. A local bank account can help students save money in the long run.
We offer really good exchange rates for study abroad students for their university fee payment or money transfers to Australia from India.
We have a blog exclusively dedicated on how to open a bank account in Australia for international students. Take a look and learn how the whole process is.
How To Open A Bank Account In Australia For International Students
Tax Filing For International Students
If the course you have enrolled in is more than 6 months then you are considered as an Australian resident for tax purposes. 
You need to file your taxes in 3-4 months after the end of the financial year in Australia (30th June). To calculate how much you need to pay as your tax visit the official website of the Australian Taxation office. 
Do I need to lodge a tax return in Australia?
If you have a part-time job and your earning is more than A$18,200 (tax-free threshold) you need to file a tax return

If your earnings are less than A$18,200 and you haven't paid any tax on your earnings yet you may still need to advise ATO about it. You will need to fill in a form called

Non-lodgment advice form

and send it to ATO.
You can lodge your tax returns in various methods like lodging online using mygov website or by using the Australian Taxation office's help program which is usually run by volunteers.
Requirements to file your tax returns are:
Tax file number (TFN)

– it is similar to our pan card number with 9 digits. TFN is issued by the Australian taxation office to everyone working in Australia. It is issued only once in your lifetime so securing it is very important. This number remains the same if you change your job, city or even when you leave Australia. You can apply for

TFN at the Australian Taxation Office website.

Your bank account

Identity proof such as a passport

Payslip
Transportation Options In Australia
Australia has a wide range of transportation options from buses, trains, trams, taxis and ferries. Availability and cost of each option depends on where you live in Australia. 
Each state and territory of Australia has its own transportation network. Student concessions in each city are different. Some cities offer while some do not.
Concessions in public transportation in Australia
Australian Capital Territory Government, ACT Canberra – International students in Canberra get a full concession on public transportation. The ticketing card used is Myway.
New South Wales, NSW Sydney – Generally, no concession is applicable to international students. Only students with Australian Government scholarships may be eligible for transport concessions. The ticketing card used is the Opal card.
Northern Territory, NT Darwin – Primary, middle and senior school students can travel for free with a valid ID card. University students can have unlimited public transportation for a whole week for just A$7. Ticketing card used is Tap and Ride Card.
Queensland, QLD Brisbane and Gold Coast – International students studying institutions approved by registered training organisations, TAFE and universities in Queensland can avail concessions. Ticketing card used is Go Card.
South Australian Government, SA Adelaide – Upon presenting a valid student ID card, all international students can avail concession on public transport. Ticketing card used is Metro Card.
Tasmania, TAS Hobart – International students get a full concession. Ticketing card used is Green Card.
Victoria, VIC Melbourne – Students who are a part of participating universities, TAFE (technical and further education) and other approved education providers can get a 50% concession on the ticketing card, Myki.
Western Australia, WA Perth – International students can travel on any bus, train or ferry and transfer between services within a given period with just one ticket. Ticketing card used is the SmartRider Card.
Driving
Generally, you can use your current and valid Indian driving license in Australia to drive.  But many state and territory governments of Australia require you to get an Australian drivers licence if you are here for more than three months. 
You have the option of buying a new/used car or even renting a car. But the expense that follows will be huge. From buying to the maintenance, it's quite expensive.
Taxis
Though it's a common mode of transportation, students generally do not prefer it as it is quite expensive. You cannot negotiate the fare and have to pay what the meter shows.
Uber, Ola, Bolt (Formerly Taxify), Didi provides taxi services in Australia. 
Bicycle
One of the easiest travel options in Australia is bikes. It not only helps you save a lot (A$1000 per year!) but the healthiest travel option. You can either get a new one or a used one from online market websites like Gumtree or Facebook Marketplace or from stores like Kmart, Target etc.

Part-time Jobs For Indian Students In Australia
It's very important to find a job to sustain in Australia for international students. Before we get into the topic there are few requirements to apply for a job in Australia.
A valid visa (student of course)

TFN and ABN

Resume

Cover letter

Bank account

Superannuation account
Sample Resume Template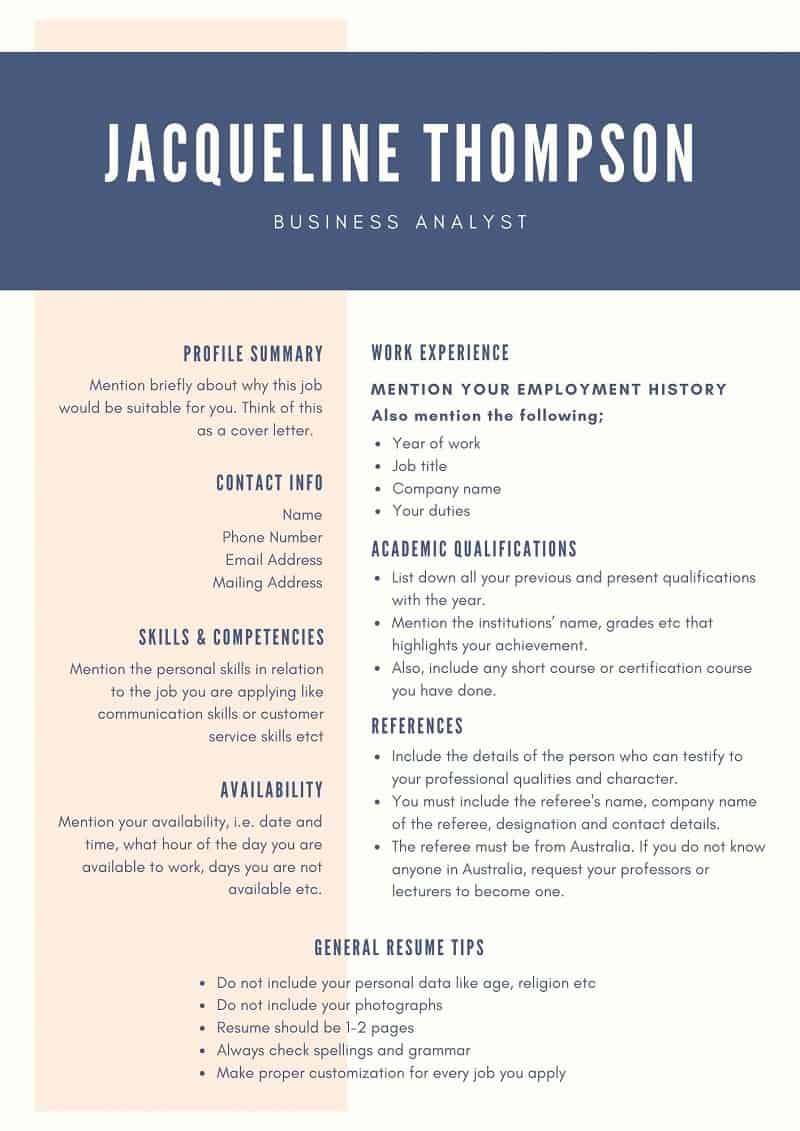 Sources to find jobs in Australia
Referrals/References – If you have any friends or family already working, they can act as referrals/references. Your tutors, professors and lectures or the guy whom you just met at the gym can also refer you for jobs. In reality, many jobs get occupied even before advertising it through referrals or references. So do not hesitate to ask others.
Networking – Regular meetups and networking can help you with a job. Attending events like meetings, seminars, exhibitions are a way to find jobs. You can download the app meetup that will allow you to network effectively. Every industry (like IT, accounting etc) usually have a body or association of which you can become a part and can network efficiently when they conduct regular meetups and catch-ups. LinkedIn, Facebook groups, & Whatsapp groups are some of the popular online platforms that help in networking.
Student support office – Almost every university has a wing that functions for students' support. They will help you build your cover letter and resumes and also guide you regarding job interviews. They will also put up job advertisements on job boards. It can be online or a physical board. So a good contact with them can help you in securing a job.
Recruitment agencies – Yet another major source of job search is through recruitment agencies. You need to register with them to get a job. Sidekicker is one of the major agencies in Australia that provides a job.
Job websites – Very effective medium of job search is through job portals. Employers will post ads on such websites and all you need to do is apply. Popular websites in Australia are Seek, Gumtree, Indeed, Jora and Adzuna.
Business/Industry websites – Some businesses just do not post their requirements on the above-mentioned job portals. They have their own job portals and you need to apply through them. So make an attempt to check such websites regularly for updates on job opportunities. Businesses like Woolworth, Coles, Myer and David Jones.
Volunteering – If you have no work experience at all then you can actually take up volunteering work. Volunteering Australia and Seek volunteer are two useful websites. These platforms can help you build your soft skills.
Overseas students on a student visa can work for 40hrs per fortnight and can work for unlimited hours on holidays. Salary will be paid weekly or fortnightly (every 2 weeks) in Australia.
The minimum wage in Australia is $19.49 per hour.

Cost Of Living For Indian Students in Australia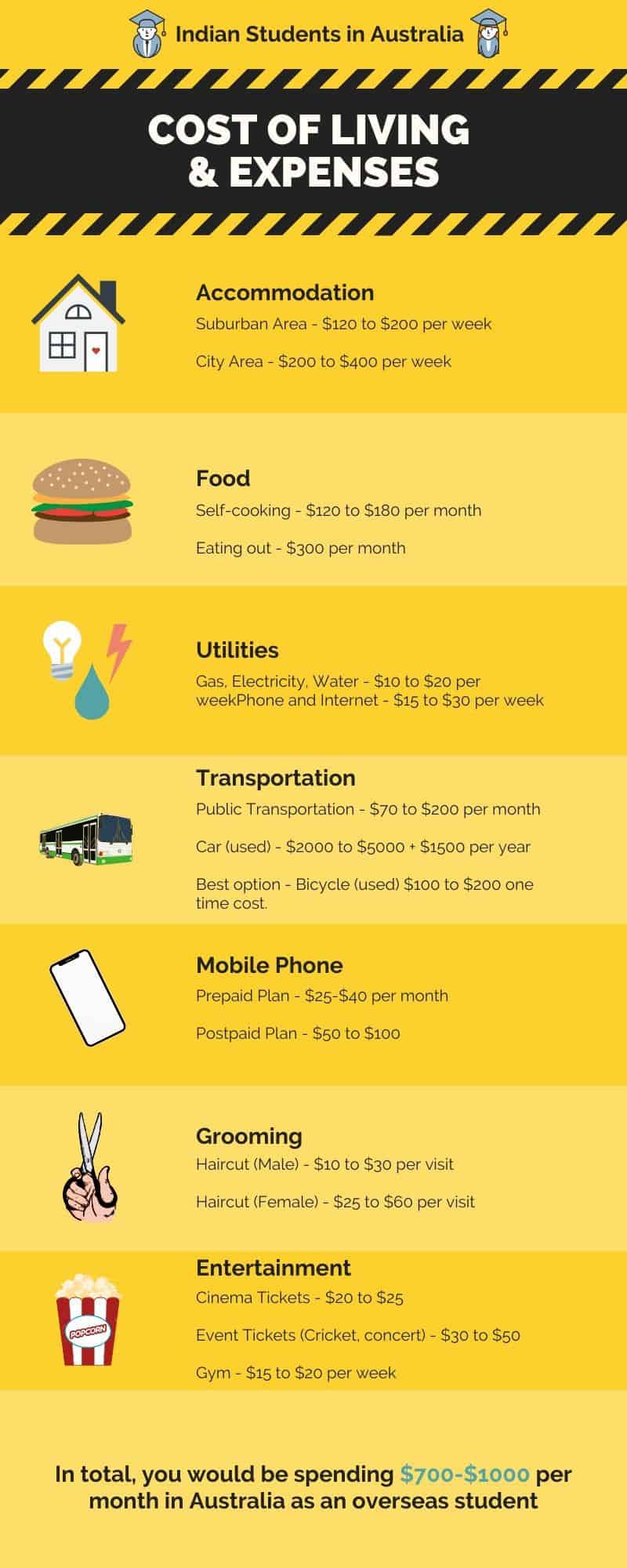 Our general advice to Indian students going to study in Australia is to always stay updated with the information from the immigration website of Australia. 
If you are already a student in Australia, we are sure you will also have something interesting to contribute. Add your comments below!
Also Read: 12 Best Universities In Australia For MS Indian Students Should Know
Comments