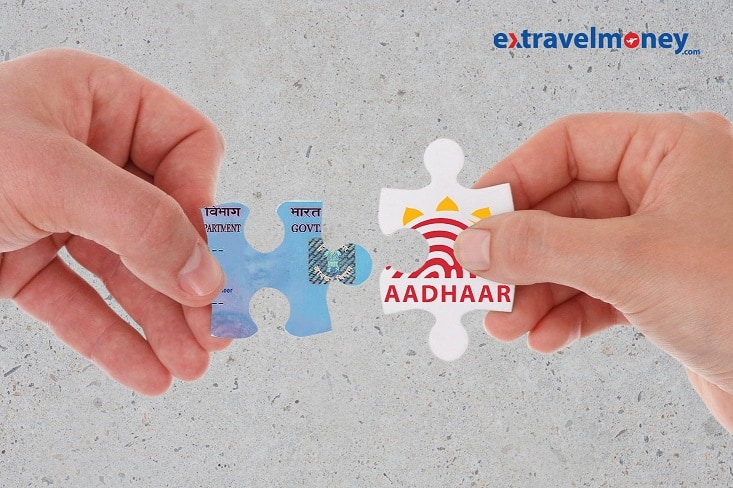 In a move aimed at streamlining financial transactions and ensuring transparency, the Indian government had set a deadline of June 30, 2023, for linking PAN (Permanent Account Number) with Aadhar. 
This linking is a crucial step. 
If you have failed to comply before the deadline, your PAN would have become inoperative. This can have significant repercussions on various financial activities. With an inoperative PAN, you won't be able to buy a car, open a new bank account, a Demat account (for trading in stocks), buy or sell property above Rs 10 lakhs and so on. 
In this article we are going to focus on how not linking PAN with Aadhar is going to affect your foreign exchange transactions. 
Learn, how an unlinked PAN – Aadhar is going to impact your ability to send money abroad, buy and sell foreign currencies, and purchase forex cards.
Impact on currency exchange & buying forex card
Even if your PAN and Aadhar are not linked, forex transactions such as currency exchange and buying a forex card are possible.
But there is a catch.
For transactions above Rs 50,000, you cannot pay in cash and must use a bank transfer to make the purchase of foreign currency. 
Similarly, for selling forex, you cannot receive the proceeds as cash if the amount is above Rs 50,000. The bank or forex store must credit you the money via a bank transfer.
This rule is in place so that the income tax department can track your high-value transfers. 
But, currently, there is a growing trend. 
A few RBI-authorised money changers are providing forex services to customers only after checking if they have linked their PAN with Aadhar. 
Thus, it is our recommendation to get the linking done as soon as possible. If you are planning a trip abroad, you don't want any last-minute hiccups when needing to buy foreign currency.
Impact on International travellers
1. For international travellers planning their own trip (without opting for a tour package);
There are almost no issues, for now.
However, as mentioned in the previous section, some forex companies, to be on the safe side of the law, are serving customers only if their PAN and Aadhar are linked. 
The way we see it, this trend is only bound to gain traction in the future. Typically banks and other financial institutions are very aggressive about compliance. 
In such a scenario, if you have not linked your PAN card with Aadhar, you won't be able to purchase the required forex – Be it as foreign currency notes or a forex card.
2. For international travellers opting for a tour package;
It is not possible to go abroad on a tour package anymore without linking PAN and Aadhar. 
Usually, tour packages are availed by couples from India going on their honeymoon or families going abroad. The person who is making the payment towards the tour package must ensure their PAN and Aadhar are linked.
Typically, the payment for foreign tour packages goes like this;
Traveller in India → Tour agency in India or abroad → Payment towards hotel stay, food & transportation abroad
When opting for an international tour package, there is a flow of money happening from India to abroad. Currently, international remittances are not possible without the sender having linked their PAN and Aadhar. 
Note: Another minor issue for travellers is that they can't get a new debit card or credit card without linking their PAN and Aadhar first. When travelling abroad, carrying an international debit/credit as backup or emergency funds is a practice most travellers follow. If one has old and functioning debit/credit cards, they can still use them but the prudent and long-term solution would be to link PAN and Aadhar.
Impact on money transfer abroad from India
If PAN and Aadhar are not linked, you cannot do money transfers abroad from India. 
All banks and money transfer companies in India expect the customer to have done the linking. Only then will they provide the remittance service.
International remittances are mostly done by students going to study abroad, their parents and also those who have relatives abroad. The most popular purposes of transfer are university fee payment abroad, maintenance of close relatives abroad, and gift remittance.
Impact on students going to study abroad
If you are a student who is going to study abroad, typically the university fees will have to be paid from your bank account. One of the stipulated conditions for paying tuition fees abroad is that it must come from the student's own account. So make sure to link your PAN and Aadhar to be able to do such remittance transactions without any hitches.
Likewise, if you are a parent of a student who is already studying abroad, you may have to send living expenses for the upkeep of your ward. So ensure that your PAN and Aadhar are linked so that you can send money on the ready when your ward requires it and not get stuck and prevented from sending the money abroad just because you did not link your PAN with Aadhar card.
What to do if you missed PAN-Aadhar linking deadline?
If you have missed the deadline, you can still get the linking done. There is a penalty of Rs 1,000 that needs to be paid. Once you've done the payment, it'd take about 6 – 7 days for the linking to happen. 
Visit the income tax online portal using the following link;

https://www.incometax.gov.in/iec/foportal/ & follow the instructions provided
Keep your PAN and Aadhar card details ready.
There would be an OTP verification and then you can pay the Rs 1000 penalty to link your PAN with Aadhar.
This portal can also be used to check if your pan and Aadhar card are already linked or not.
In conclusion, the connection between PAN and Aadhar has evolved into a vital component of financial transactions, especially when it comes to foreign exchange and international travel. The growing trend among financial institutions and forex companies to prioritise compliance and the potential for further restrictions in the future highlights the importance of timely linking. By connecting your PAN and Aadhar, you're taking a proactive step towards financial accessibility and peace of mind in today's interconnected world.
Also Read: 10 Rules of LRS Scheme Indian Students Should Know Before Studying Abroad
Comments