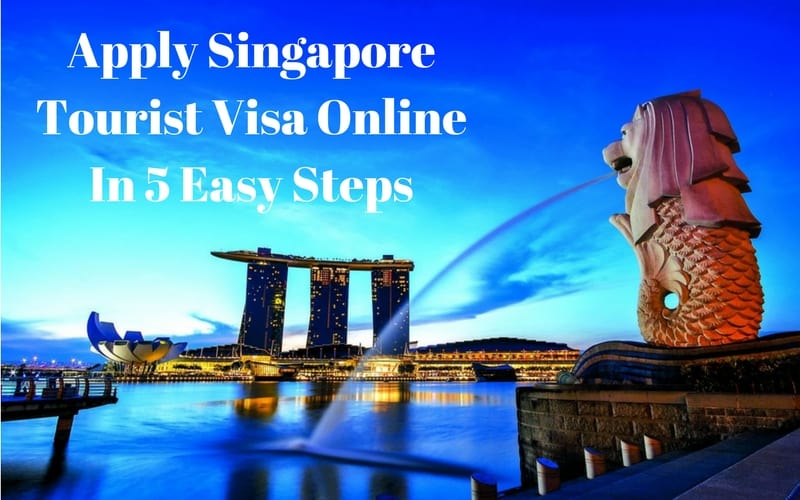 Singapore is one of the most popular destinations for tourists across the world. Every year more than 10 million people visit this small island country which is half the size of Delhi! We had earlier done a post on free popular things to do in Singapore. Here, we'll talk about how to apply for Singapore Tourist Visa online for Indian citizens in 5 easy steps. If you are an Indian tourist wondering how to do the Singapore Visa application online, then this is the complete guide for you!
How To Apply Singapore Tourist Visa Online
The High Commission of Singapore in India does not take in any walk-in visa applications. Instead, The Immigration and Checkpoint Authority of Singapore has designated many Authorised Visa Agents and Strategic Partners. Indians can apply for Singapore Tourist Visa online using these Authorised Agents and Strategic Partners. One of the most popular and trusted strategic partners is Thomas Cook India Ltd.
The full list of Authorised Visa Agents and Strategic Partners in India can be accessed here.
In addition to the Singapore Travel Visa fees of SGD 30 (around Rs 1500 at today's Singapore dollar rate in India), you'll be charged an additional service charge of Rs 300 as a visa processing fee from Thomas Cook.
Singapore Tourist Visa Online Application Process
The following is the process with Thomas Cook;
Go to their website Thomas Cook Visa Application
Select Singapore as the destination country, choose the Tourist Visa option, provide your date of travel, select the Thomas Cook branch closest to your location and provide your email address and phone number.
Fill in the details, make the fee payment online and print the Payment Receipt.
Head to the Thomas Cook branch you've chosen along with the Payment Receipt and the documents required which are mentioned below.
Submit the documents to the branch. You can either choose to get the Singapore Tourist Visa couriered to your home or picked up directly from the branch.
That's it!
How much time for Singapore Tourist Visa application to get processed
You can expect your Singapore Tourist Visa application to take anywhere between 1 day to maximum of 5 days to get processed. Please make sure to apply at least 3o days before the scheduled date of travel.
Documents Required
A passport that is valid for at least 6 more months from the date of entry into Singapore
Visa Application Form 14A, filled and signed by the applicant
Confirmed return flight ticket
Two recent coloured passport size photos (35mm X 45mm) with white background
Bank statement of last 3 months
A covering letter detailing the purpose of travel, travel itinerary. This  should be addressed to 'The Embassy of Singapore /The Consulate General of Singapore'
Singapore Tourist Visa Benefits
These are the benefits present along with a Singapore Tourist Visa ;
It is a multiple entry visa with a maximum validity of 2 years.
The Visa allows you to stay and travel in Singapore for a period of 30 days. These 30 days can be utilised through multiple entries over 2 years from the date of issue of the Visa. You won't have to reapply for a Singapore Tourist Visa within this period.
Hope you found this post useful in giving you an overview of the online process involved in applying for a Singapore Tourist Visa.
Also Read : 6 Essential Documents You Should Have When Travelling Abroad
If you have any doubts please address them in the comments below.
Comments