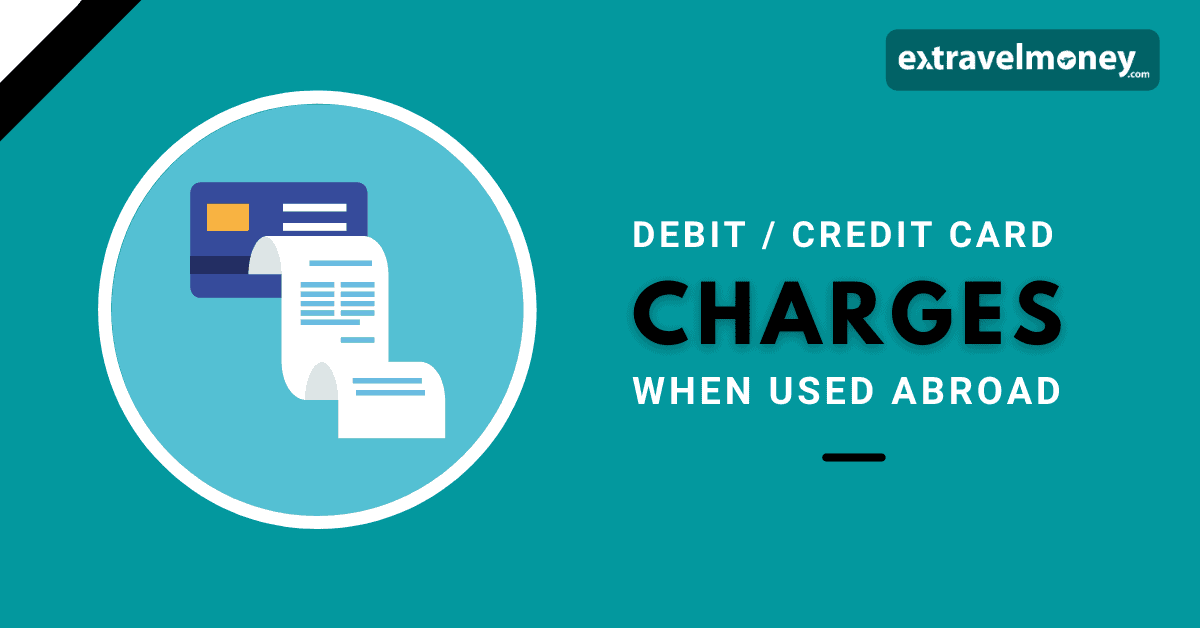 Be it a business trip or a leisure trip, one of the foremost questions that comes to a traveller's mind is, "How to carry money when travelling abroad?".
Some travellers prefer the all cash method.
They buy the required foreign currency for their trip in India itself. When travelling abroad they use those foreign currency notes to pay for their expenses.
However, carrying all of your money as cash is neither safe nor smart.
Typically, what travellers do is buy foreign currency as cash calculating the rough amount of incidental expenses during their travel.
These expenses could be tips, transportation such as taxis, buses or the metro, and restaurant bills etc.
For meeting other major expenses they rely on their credit card or debit card.
However, in this post, we are going to show why such a travel-money strategy is a bad move.
Know the charges of using a credit card or a debit card abroad.
Also, learn how to implement a winning travel-money strategy that'll help you save money when going overseas.
Charges Of Using Debit/Credit Cards Abroad
Foreign Currency Conversion Fee
Foreign Transaction Charge
Cash Advance Fee
Foreign ATM withdrawal fees
Dynamic Currency Conversion fee (DCC)
Foreign Currency Mark-up fee
Over-limit fee
Annual fee
Other fee
1.    Foreign Currency Conversion Fee
When you swipe your Indian card abroad ( where the balance is reflected in Indian currency ), a charge is levied to convert from INR to the foreign currency.
Suppose you are spending in USD with your Indian card, a fee will be deducted to convert INR to USD.
This is usually charged by MasterCard or Visa and it is 1-2% of the amount that has been converted.
2.    Foreign Transaction Charge
Every time you make a transaction abroad, be it using at any PoS machine or withdrawing cash from an ATM, your bank will put you through a charge to carry out the transaction. This fee is basically an arrangement between your bank and the card provider (Visa or MasterCard).
Charges could be as high as 3-3.5% of the transacted amount.
3.    Cash Advance Fee
When you withdraw cash with your credit card you will be charged with a fee called cash advance fee irrespective of where you used it (India or abroad).
The cash advance fee in India ranges from 2.5-3% of the amount of cash withdrawn. Most of the banks charge a minimum of Rs 250-500 as a cash advance fee. The charges will be slightly higher when used abroad.
4.    Foreign ATM withdrawal fees
ATM usage abroad costs a flat fee. This fee is often up to $5. These 5 dollars could easily blow up into a huge expense factor each time you use the ATM.
5.    Dynamic Currency Conversion fee (DCC)
When you make a purchase abroad and the guy operating the PoS machine may ask you whether you would like to pay in your home currency. You might feel it as a  convenient service (since paying in your home currency allows you to better grasp the value of your purchase rather than paying for the bill in foreign currency). However, please do note that a charge called DCC would apply for using this service which is around 2-3% of the transaction amount. This  would cost you heavily during your trips.
6.    Foreign Currency Mark-up fee
It is basically the revenue, the credit/debit card issuer generates from the transactions made by the customers.
When carrying out a transaction abroad with your credit/debit card, the exchange rate is applicable on your transaction is the one determined by your card issuer. Usually, a very high exchange rate margin is added on top of the actual exchange rate. So on each transaction abroad, you'd be losing this money too on top of the other fees mentioned here.
The worst part is that you will never have any idea how much exchange rate mark-up is being added to your transaction before payment using your card.
7.    Overlimit Charges
This fee is charged when you withdraw over the credit limit of your card.
It could be 2.5% of amount over the limit  or a minimum of Rs 500.
So if you are abroad and have sudden expenses to meet and have no other option than to use money over the limit of your credit card, you are going to be paying for that as well.
8.    Annual Fee
Some card providers charge an annual fee for maintaining the account open all through the year. It is more like a charge for all the benefits cards provide you with.
Not all cards will have an annual fee. Cards with an annual fee usually provide you with extra benefits.
The higher the annual fee, the more will be the features and benefits of the card.
The annual fee can range from Rs 100 to Rs 10,000!
9.    Other Charges
A GST of 18% is levied on all services provided by cards.
In case if your credit/debit card gets lost or stolen abroad, and it needs to be blocked and replaced, prepare to pay an amount for that too.
Most banks charge a fee called a replacement fee for your stolen/lost card.
These are the main and major fees you are going to encounter when using your card abroad.
Domestic Cards vs. International Cards
Travellers have two options of cards to go for.
Regular debit/credit card that we use domestically.
International cards explicitly for usage abroad
Domestic Cards
Most banks provide the facility of using your existing domestic cards abroad. But this feature will be disabled by default because of security reasons.
It can be activated on request and prior to international trips. However, charges are astronomical if you use your domestic cards abroad.
International Cards
If you are a person who frequently travels abroad, then you can go for an International Debit/Credit card. They have many incentives for travellers. But as the saying goes, 'there is no such thing called free lunch'.
International debit/credit cards are the epitome of luxury and come under the premium category. Annual fees of most of the cards available in the market can go as high as Rs 50,000 or even more. Mark-ups on conversions and many other charges like Dynamic currency conversion charges still persist even in international cards.
Most of the high-end variant card users are waived off from paying foreign transaction fees and others charge 2-3.5% of a foreign transaction.
But to maintain a premium card is expensive considering the annual fees and other charges.
Forex card
A Forex Card is the complete package when it comes Comfort, convenience, cheaper and safety in spending money abroad.
It is similar to a debit card with which you can swipe at shops or withdraw foreign currency from ATMs while on a trip abroad. You can reload it any time according to your financial requirements.
It's advantages are :
Multiple foreign currencies can be pre-loaded in India itself before your travel abroad
Currency conversion happens once when loading the card with the foreign currency of your choice. In that too, you get good exchange rates.
You can use it to book your flight tickets, pay restaurant bills, swipe at PoS machines in shops abroad and make payment at international websites.
24*7 access to withdraw cash at 10,00,000+ ATMs; anywhere in the World.
Free spare cards are given on the purchase of a forex travel card.
Accepted over 14.50 million Merchant Establishments worldwide.
A 4 digit PIN and chip technology helps to secure all your cash withdrawal transactions.
Unutilized balance can be en-cashed or let the balance remain on your Card (up to $2000) so that you can use it for any future international trips.
The question that arises now is;
How to carry your travel money when going abroad?
Best Travel Money Strategy
Carry about 30-40% of the foreign currency needs for your travel abroad in Cash
Carry the rest majority of the money 60-70% in your forex card.
Keep your debit/card card as backup only.
By following this strategy you'd lose very little money on currency conversion fees and also other fees associated with using a credit/debit card abroad.
ExTravelMoney.com has tie-ups with all the major banks and money changers across India who provide forex cards at the click of a button.

You can compare and buy the best forex cards in India online through us.

ExTravelMoney.com – Buy Forex Card Online in India

Get them door delivered and reload them whenever required, as simple as that!
Also Read: 8 Best Prepaid Forex Cards in India For Students and Travellers – 2021
Comments