When it comes to receiving International payments in India, PayPal is a popular option. 
It is commonly used by Freelancers/businesses in India to collect payments from clients abroad. The transfers are instantaneous and payments are credited quickly.
Note:
In India, PayPal
can't be used
to send money abroad for personal payments. Only business related transfers are allowed abroad from India. 
If you want to transfer money abroad to a close relative, friend or pay university fees, you can try out our service ExTravelMoney.com – Get the best exchange rates and lowest service fees on money transfer abroad from India.
We agree PayPal is excellent but it has a few downsides. 
High fees to receive money

– PayPal charges high fees for receiving money transaction fees on international transfers – 3.5% to 4.5% on the amount being sent abroad.

High currency conversion charge

– Fees levied on non-PayPal payments could be a very expensive affair, about 3 to 4%.

Paypal might

freeze or limit

account activity without any prior notice. Also, their inadequate customer support leaves a lot to be desired.
So if you are looking for alternatives to PayPal in India, we have got 6 of the best ones lined up below.
1. Payoneer
Image Source: Payoneer
This payment platform focuses on small to medium-sized businesses. Payoneer and PayPal work over a vast global network. The critical difference between both is the fees incurred for their services. 
Though Payoneer isn't the cheapest option available it is definitely better than PayPal in terms of exchange rates and other charges. PayPal outplays Payoneer concerning ease of use and the features provided.
2. Skrill
Image Source: Skrill
This popular online payment service is a strong contender for PayPal. Skrill offers a better exchange rate and transaction cost to its users. 
Though acceptance among merchants for skrill is little less than PayPal, its zero deposit fees, zero withdrawals fees, and free money transfer service make it a great choice among private users.
3. 2Checkout
Image Source: 2Checkout
Another prominent competitor to PayPal is 2Checkout. 2Checkout lets you choose from 87 currencies, eight payment types, and 15 languages. 2Checkout accepts PayPal as one of its payment methods. 
Major setback 2Checkout has is the average fee for currency conversion. it is 2-5% above the daily bank exchange rate. 
With an advanced fraud protection feature that shields its customers from getting scammed, 2Checkout is a noteworthy alternative to PayPal.
4. Stripe
Image Source: Stripe
Stripe began their operation in 2011 but only recently have actively involved themselves in the online payments market in India. 
Globally speaking, Stripe can be considered as the 2nd most popular online payments solution after PayPal. This is mainly due to their ease of use.
Their fees, though definitely lesser than PayPal's, is also probably second highest to PayPal's in this list. 
If you are looking to receive funds from abroad to India, Stripe is a good option to consider.
5. Instamojo
Image Source: Instamojo
An online solution for receiving money from our own Bangalore? Yes, that's Instamojo. 
Their platform allows Indian freelancers and businesses to easily set up a payment gateway for their international clients by means of generating a payment link. 
A variety of payment methods such as Debit/Credit cards, Wallets and even Indian payment solutions such as Net Banking and UPI are supported in their gateway. 
Compared to PayPal their fees are nominal and customer support is better.
6. PingPong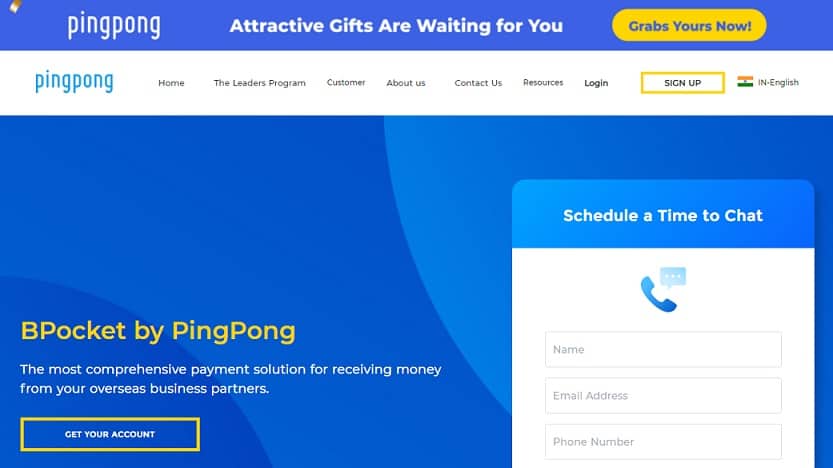 Image Source: PingPong
PingPong is one of the newest entrants in this space.
However, they've managed to capture a lot of users within a short period of time.
This is because of their lower fees and excellent customer support.
If you are a freelancer, small enterprise or an e-commerce business operator in India, PingPong offers you just 1% fee on receiving money from your clients/customers abroad. If you are expecting payments from USA/Canada, do take a look at PingPong's dedicated payment solution called Bpocket.
Not a freelancer or a business
but wondering how to receive money from abroad? 
The only legal way to receive money in India (for personal transactions) would be by way of "Wire Transfer" via bank account.
The sender abroad must initiate an international "Wire Transfer" from their bank account to your bank account in India.
For doing this, you must provide the sender abroad the following details; 
You bank account number in India

Your bank, it's branch where you hold the account and branch address

Your local address

Bank IFSC Code

SWIFT Code
Also Read: Tax Implications On Money Transferred From Abroad To India
Comments