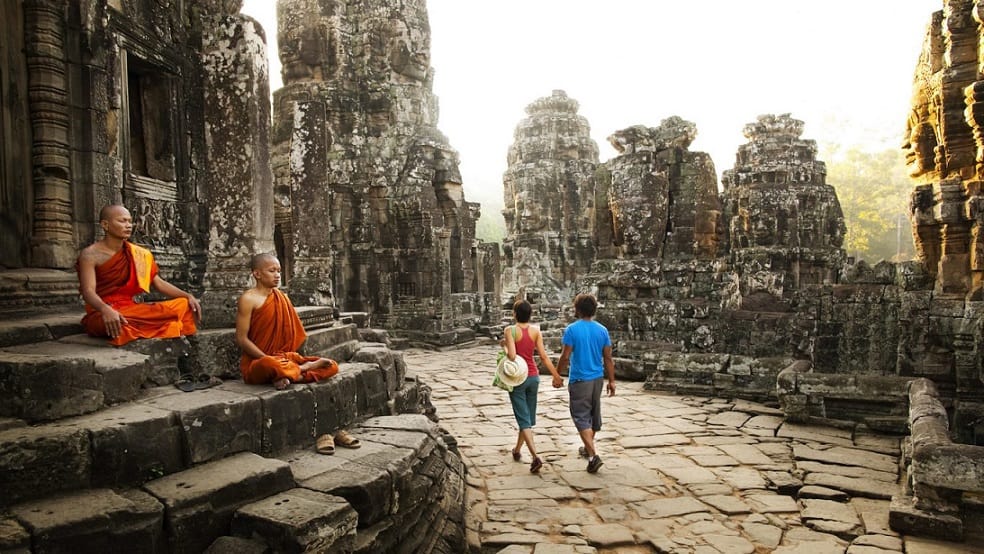 Coronavirus is still wreaking havoc across the world and lockdowns have been imposed in many countries. In such a situation travel is still a distant prospect for most of the population. 
Unfortunately, not all countries can afford a shutdown. Especially those that are mainly dependent on revenue from their travel industry. 
This Asian country is now allowing travellers but there is a catch! 
People visiting there must pay a Safety Deposit of US $ 3,000. Why? To meet the treatment/funeral expenses in case a traveller catches the dreaded Coronavirus there! 
Come take a look at the strange case of Cambodia and decide if you are brave enough to meet their travel requirements. 
Cambodia's COVID-19 Travel Requirements
On June 11th 2020, Cambodia's Ministry of Health came out with a new set of regulations for travellers visiting the country. 
The key takeaways are;
$3,000 (₹2.26 Lakhs) deposit to cover any potential COVID-19 related expenses that the government of Cambodia might have to bear in treating a traveller if they get infected. 

This deposit has to be paid upon arrival at the airport in Cambodia. They accept both cash and credit card. 

Out of this deposit, USD 165 (₹12.5 thousand)will be used for COVID-19 testing which is mandatory. This includes $100 for doing the test, $60 for a 1-day stay at a hotel with 3 times meals and $5 for transport to the hotel from the airport.

If the test results turn out negative, the remaining amount, $2835, will be refunded back to the traveller before going back (subject to a few conditions which we'll be discussing below). 

The $3,000 dollars includes a cremation charge of $1,500 (₹1.13 Lakhs ) n case the untoward happens (Paying for one's own funeral in advance does put a bit of dampener on the holiday spirit).

 Also, travellers need to have a health insurance cover of a minimum of $50,000 (₹ 37.62 Lakhs). 
This is a big U-turn from the government's earlier statement in March where the Cambodian Prime Minister Hun Sen basically said they would treat all travellers for free if they were found to be infected with the dreaded COVID-19. 
But we can empathize with their situation and see why they are backtracking now. The numbers are increasing rapidly! And it costs a lot of money for the treatment. 
Here is the table of COVID-19 costs provided by the Royal Embassy of Cambodia.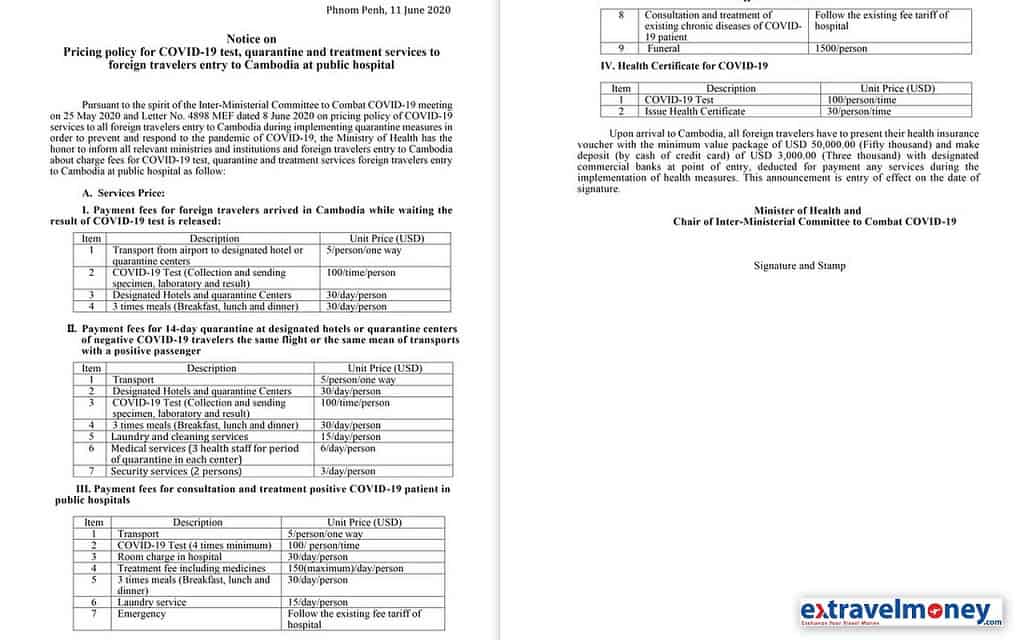 To better understand these rules and costs take a look at these 3 different cases;
Case 1: Traveller tests negative for COVID-19
The traveller is tested for COVID-19 and found negative. They have to pay $165 for the test and a 1 day stay at a hotel with 3 times meals. The balance amount, $ 2,835 will be refunded to them when going out of Cambodia.
Case 2: Fellow flight passenger tests positive for COVID-19
A fellow flight passenger of the traveller tests positive. They have to pay the mandatory $165 for the test and hotel stay etc. But apart from this, they will be Quarantined for 14 days at a government-mandated facility and the cost for this would be $1,281 (₹96.5 Thousand). If they use additional services such as laundry and cleaning, then additional money will be used up for that from the deposit. Finally, leaving Cambodia, the balance amount will be refunded. 
Case 3: Traveller tests positive for COVID-19
If a traveller tests positive, then $330 (₹25 Thousand will be used up per day from the deposit amount of $3,000. In the end, a valid health certificate must be obtained from Cambodia, declaring you are healthy and fit to travel. This will further offset a traveller by $30 (₹2.2 Thousand).
This is probably how travel abroad is going to be like in the near future because of the COVID-19 situation. 
Most countries will have a strict set of rules regarding entry and exit. Also, travel costs will be quite high with Quarantine and health insurance factored in. 
So is it safe to travel to Cambodia now?
No. Avoid travels abroad if possible until there is a solution for tackling COVID-19. 
If unavoidable, adhere to all basic protection measures such as wearing a mask, using a hand sanitizer, avoiding touching railings and other objects in public places and most importantly, practising social distancing. 
#StaySafe
Comments