Thailand is an amazing country, with unique traditions and culture, and with stunning views everywhere you look. If you want to enjoy an unforgettable vacation, you need to mark Thailand on your map. If you don't know where to go while you're in Thailand, the following list will help you out. Read about the 10 amazing places to visit in Thailand you cannot miss out!
1. The Thailand Islands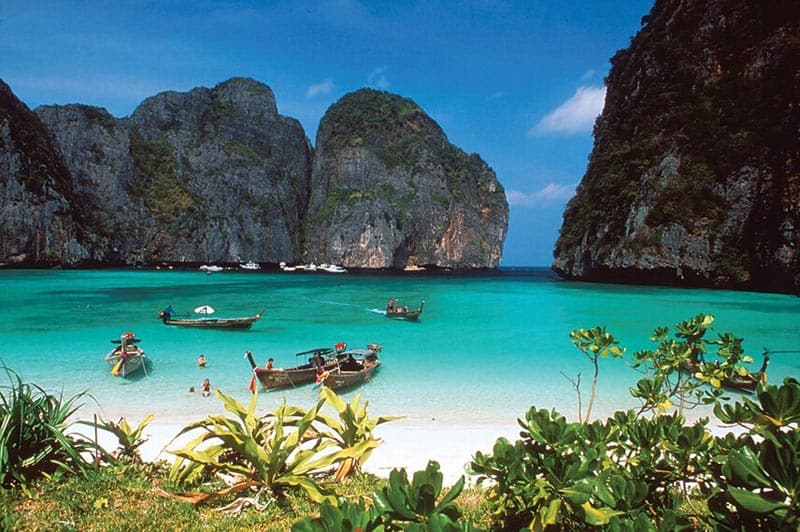 Phuket Beach
These particular islands appear in most travel brochures that depict the beauty of Thailand because they are the most popular and appreciated islands in the whole world. What makes them special are their gorgeous beaches, with soft sand and turquoise waters, surrounded by tall rocky cliffs and lush vegetation. Once you arrive here, you will feel like reaching a corner of paradise on earth and there are plenty of Thai islands to choose from. For instance, Phuket is the country's most developed island and Ko Phi Phi became famous after becoming the filming location for "The Beach" movie.
2. Bangkok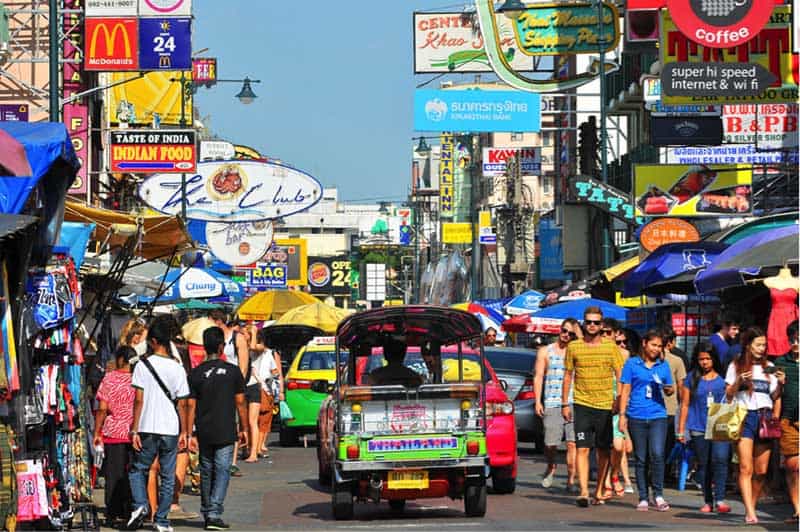 Khao San Road, Bangkok
When you are visiting a country, it is a shame not to visit the country's capital city. In Thailand, Bangkok plays this role, being the largest and most developed city in the country. The city is the perfect entwining between modern buildings, shopping centres, ancient temples and of historical vestiges, the old witnesses of Bangkok's rich historic past. You will have a memorable time in this city for sure. If you want to enjoy cheap shopping and a myriad of street food options, visit the Khao San Road.
3. Chiang Mai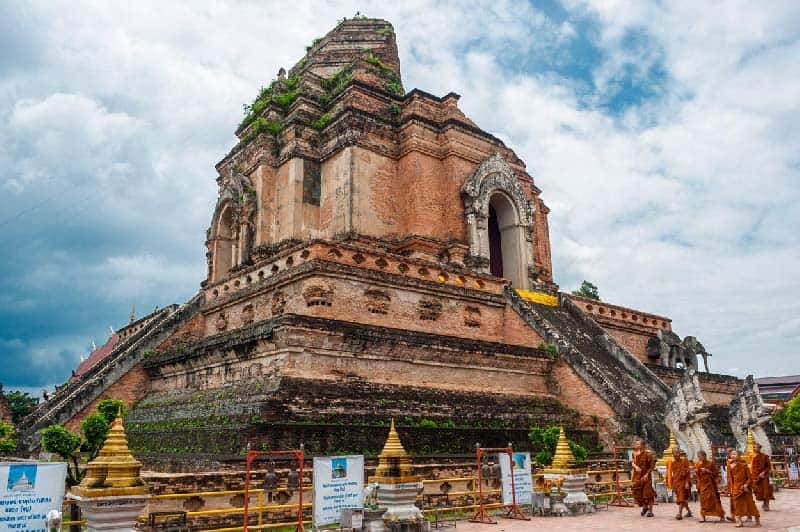 Wat Chedi Luang Temple, Chiang Mai. Image Source: yukepo.com
Chiang Mai is another beautiful city in Thailand that is worth visiting due to numerous reasons. First of all, the views here are breathtaking. The city is surrounded by mountains and is highly appreciated by tourists and backpackers who come here to explore the area's natural beauty. But, Chiang Mai can also give you an insight into the Thai architecture and tradition. There are several ancient Buddhist temples located on the outskirts of the city. Visiting them would instantly make your body relax and your soul tranquil, giving you the much-needed peace of mind.
4. Ayutthaya Historical Park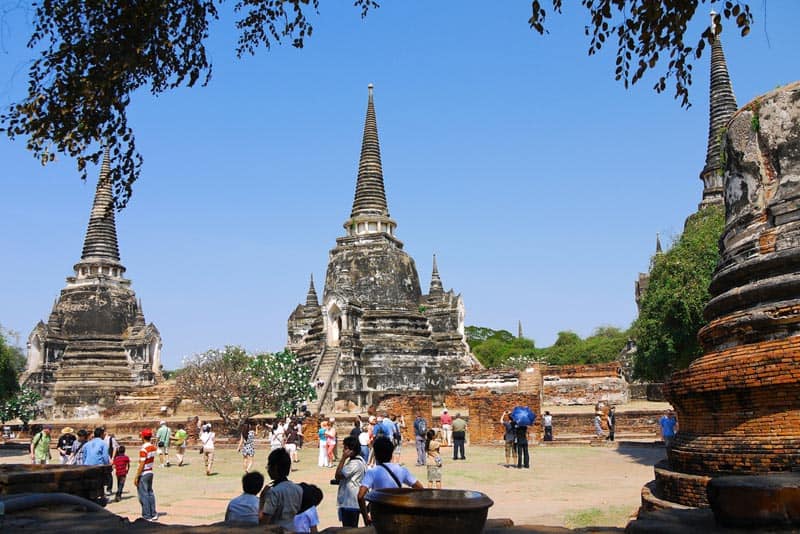 Image Source: pinoythaiyo.com
It is definitely worth visiting this breathtaking park of Thailand, where part of the country's historic legacy was saved and preserved. Ayutthaya was once the capital city of the country, but the Burmese destroyed it in one of their sieges. They burned the entire city, only a few buildings managed to escape the disaster, being buried in the ground. Now, the buildings lie in the open air, being excavated with care, forming a beautiful park that every visitor should see.
5. The Damnoen Saduak Floating Market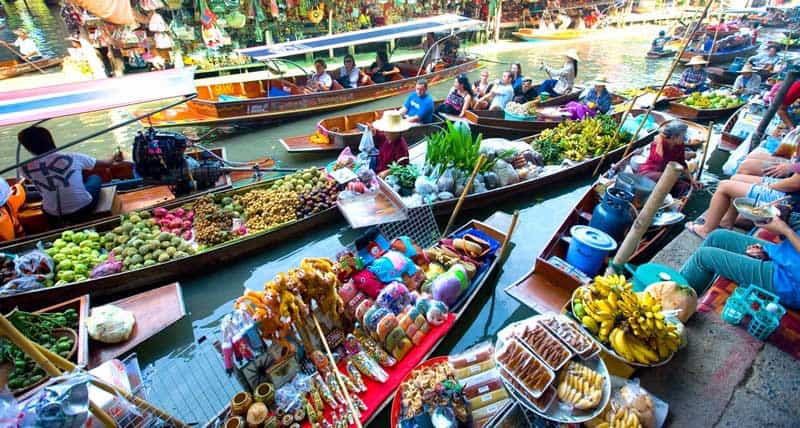 Visiting the local market of a foreign city can be a very interesting experience, but visiting a floating market can indeed provide memories you will never forget. By essence, the markets in Thailand are incredible, being the best places to become familiar with the unique products that are specific to this country. But, how about doing your shopping at the market by floating in a boat? If you want to visit the market, it is best to get there between 6 and 6.30 in the morning. You can find everything you need here, from souvenirs, fresh produces, clothes, and you can even grab some freshly made Thai food.
6. Chiang Rai White Temple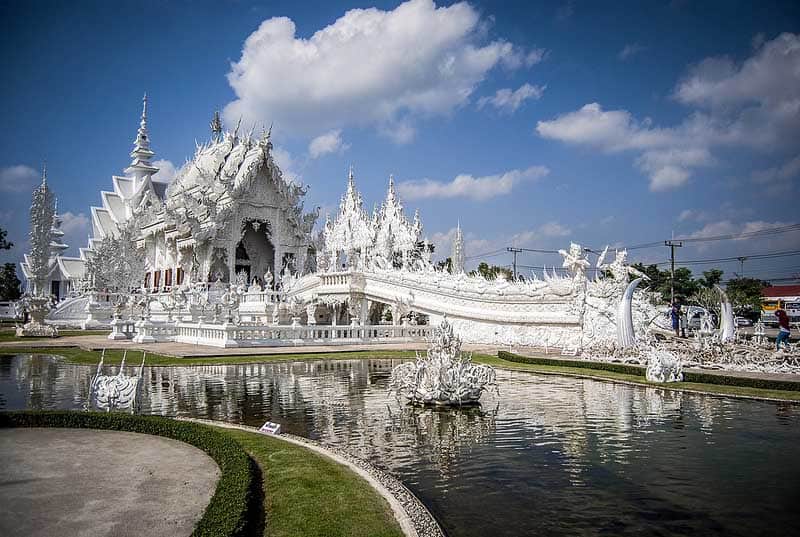 Image Source: staticflickr.com
Whatever you do, do not miss the White Temple of Chiang Rai. It is a view that is simply striking from the moment you get your eyes on it. This is a Buddhist temple that is entirely white, including the bridge and everything around it. It is something that you won't get to see anywhere else in Thailand or the world, because the architecture of this temple is not as per the traditional patterns. And this was precisely the intention of the artist that created it. The main purpose of picking the white colour for this temple is to depict the purity of Buddha. It will leave you hanging with your mouth wide open in awe because this is a view that is one of a kind on our planet. Because this is a must-see objective for many tourists, there are coffee shops, souvenir stores, and even restaurants near the temple.
7. Long Neck Hill Tribe Villages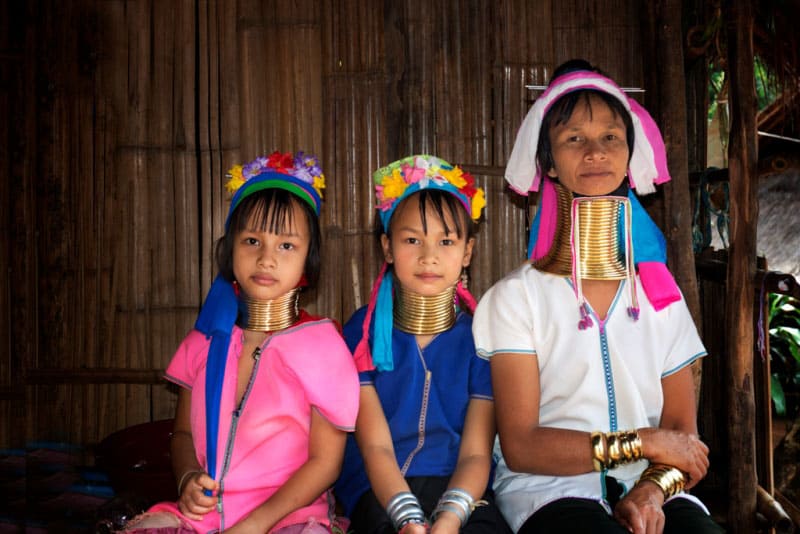 Tribal women wearing brass coils. Image source: chiangraibulletin.com
As a part of the amazing cultural heritage of Thailand, the long neck hill tribe villages are definitely worth visiting. They are famous for the fact that their inhabitants love wearing colourful outfits and that the women and girls in these villages create a unique appearance by wearing brass coils wrapped around their necks. These coils can be rather heavy, even reaching 30 pounds, the women wearing them because they represent a beauty ideal in the area. You'll have to pay a ticket to walk through these villages, but it is worth the effort, and there are souvenirs to buy if you'd like.
8. Khao Yai National Park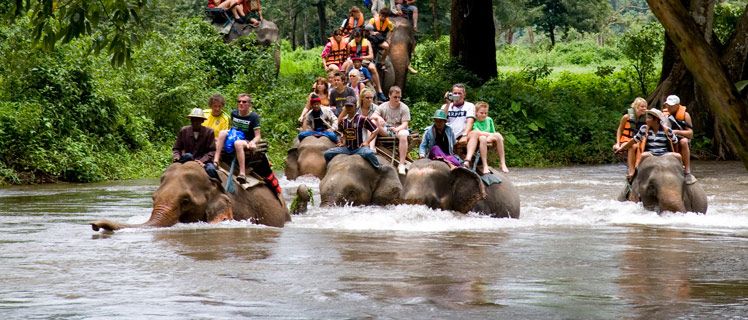 Elephant trekking in Khao Yai. Image Source: tripadvisor.com.mm
A UNESCO World Heritage Site, this park is the third largest in Thailand. Whether you come here for just one day or decide to stay for an entire weekend, for instance, it will be a pleasant break from the hustle and bustle of the large cities. You will love the trails of this park, its amazing beauty, and the fact that you will see wild animals roaming free, including elephants. For them, this park is a sanctuary, being safe from poachers and other dangers here.
9. Monkey Temples of Lopburi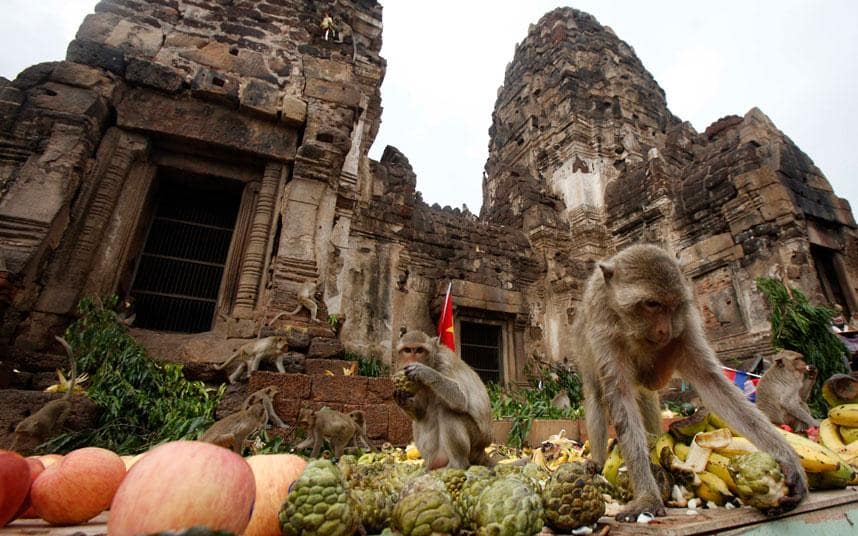 The town of Lopburi became famous among visitors and tourists for the fact that the area is simply invaded by macaques, a species of small monkeys that are very curious and daring. They are so many here because the locals feed them. They will even sell you food and juice to give to the monkeys, but you should only have food on you if you aren't afraid of being bullied by monkeys. These little creatures will not be afraid to get on your back and snatch any food you may be holding in your hands. Also, do not leave anything on the ground, because it can be easily taken by the monkeys.
10. Phanom Rung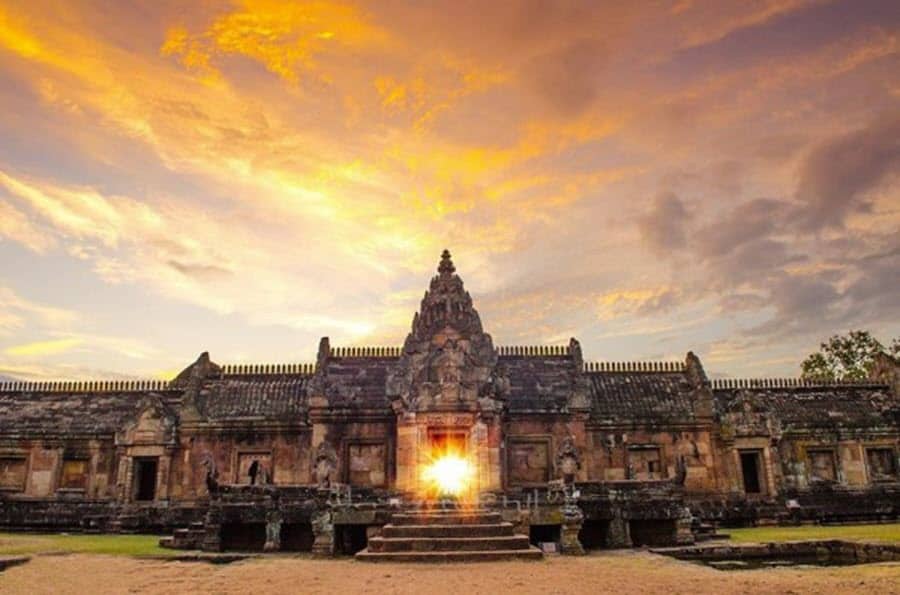 Sunrise at Phanom Rung Temple. Image Source: thaisabuy.com
If you love ancient architecture, you will love this Hindu shrine as well. It can be found near the village of Nang Rong, built between the 10th and 13th centuries, as a sign of appreciation towards Shiva, one of the most important Hindu gods. One of the temple's particularities is the fact that it was built out of sandstone and laterite, out of the desire to depict the home of the god, which is considered to be Mount Kailash. It has gorgeous architectural elements and a majestic appearance, which makes it an objective worth seeing.
Also Read: How To Get Thailand Visa On Arrival For Indian Tourists
Comments