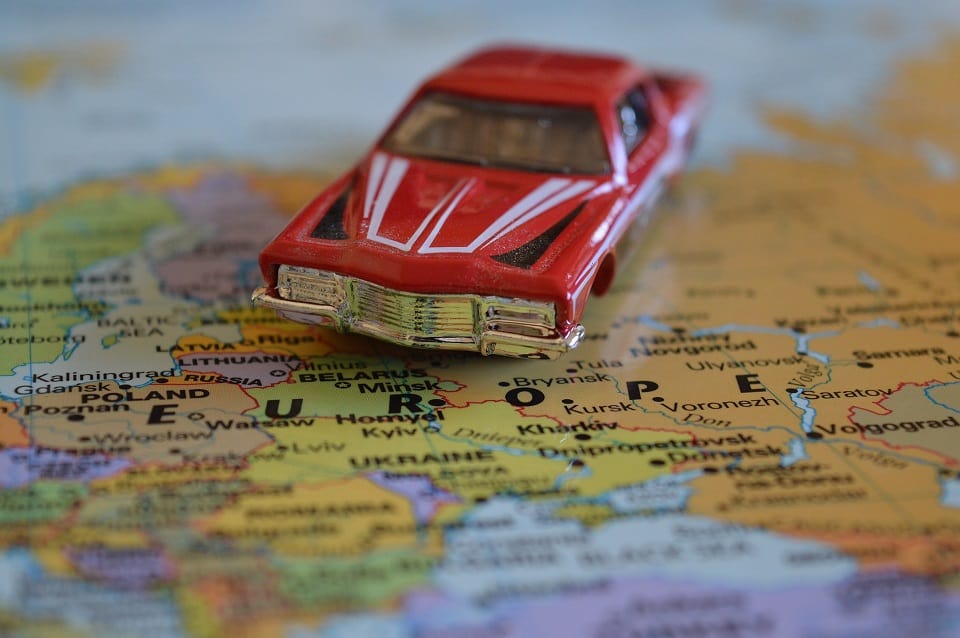 The 'Peninsula Of Peninsulas', Europe is an absolute paradise for any travel junkie. It's a  perfect amalgamation of jaw-dropping landscapes, remarkable culture and much-celebrated history make this small continent a great destination for travellers. Many of you might have been keeping this European dream in the cart for a long due to the budget constraints and we totally understand it. Hence we are here to help you move your dream out of the cart and live it without burning a hole in your pocket. Here we present 6 European cities where you can travel to under €823 (Rs 65,000).
1. Budapest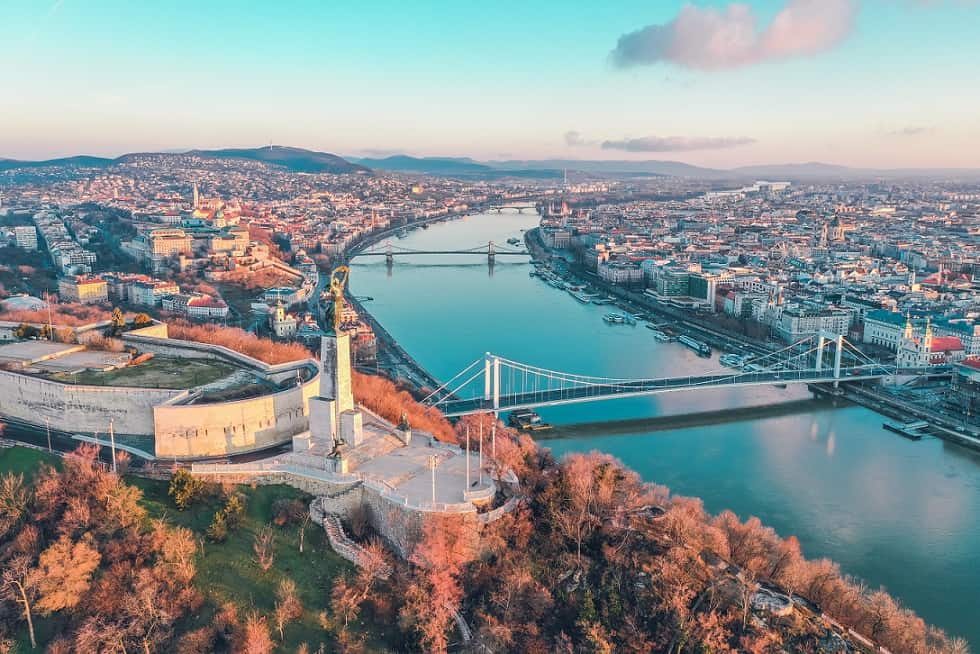 Budapest, Hungary's capital and the most populous city is a masterpiece of castles and cathedrals. Bisected by the River Danube, Budapest is also known as 'The Pearl of the Danube'. The name Budapest is the combination of two cities of Budapest, Buda and Pest. Buda refers to the wooded and hilly western area of the city. Pest, which is the other part of the city derives its name from Pession, a settlement there dating back to the Roman times. The Széchenyi Chain Bridge is the link holding them together over the Danube river making Budapest a mesmerizing European capital city.
One can find a plethora of thermal hot spring bathtubs everywhere in Budapest. Buda part of the city emanates calmness with Buda Castle or Royal Palace, the Matthias Church and thermal hot springs. Pest, on the other hand, radiates vibrant energy with rich museums, the Parliament, the Great Market Hall, St. Stephen's Basilica. The stunning ambience of the Jewish quarter is a must experience when in Budapest. 
Budapest government provides an array of offers on a daily tourist card. All you need to do is select a card according to the length of the stay. This card can be used to claim free transportation across the city, visit top attractions without any entry fees, dine out at Hungarian restaurants and many more! Over 30 free services and many more discount between 10% – 50% can be availed. This all-around cheap European city will give you all the vibes of an expensive city. 
Budget Split-up
Drink/Entertainment: €3-5

Food: €5-10

Accommodation: €10–20

Travel: €2-5

Attractions: €5-8

Total daily budget: €37
Also Read: What Is The Best Way To Carry Cash When Travelling Abroad?
2. Sarajevo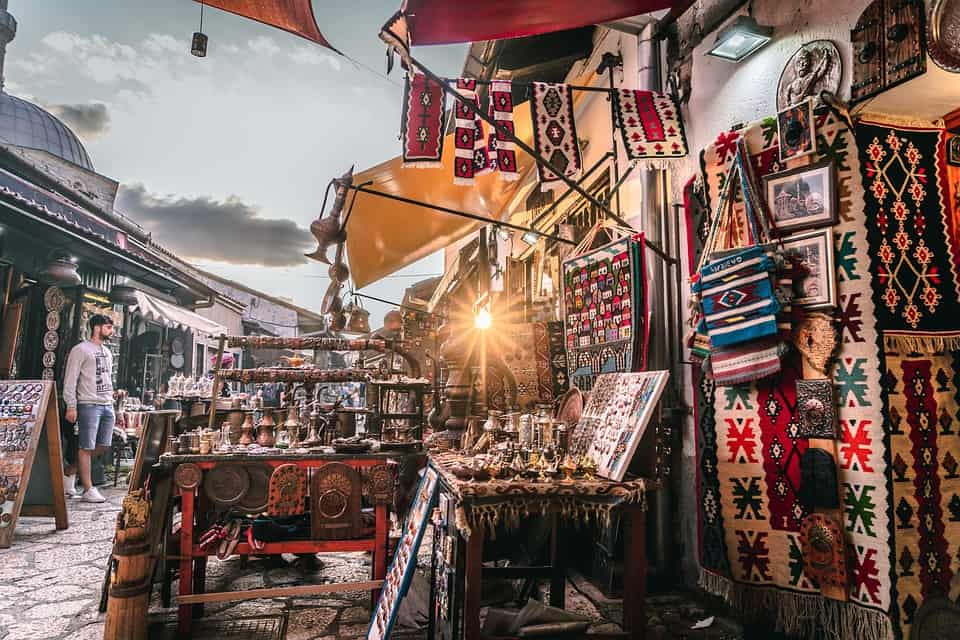 The 'European Jerusalem', Sarajevo is Europe's most intriguing city where east meets west. The capital and largest city of Bosnia and Herzegovina, Sarajevo is the only major European city to have a mosque, Catholic church, Orthodox church and synagogue within the same neighbourhood. This multicultural and religious diversity is something a traveller should not miss to witness.
Sarajevo had an inseparable link with wars and tragedy in the past. Its four years-long sieges had scars everywhere but Sarajevo bounced back in the last 20 years with its alluring beautiful nature! Forested mountains gazing into captivating valleys with Sarajevo tucked in between is a sight to behold. 
Baščaršija, an old town of Sarajevo is a bustling area with arts, crafts, traditional cafes and restaurants. Baščaršija will surely impress any traveller with its dynamic street life and Bosnian coffee. Bosnian coffee costs around €0.5-€1. For a breathtaking view of Sarajevo, get on a cable car from the foothill of  Mount Trebević and traverse 1100 metres in 7 minutes for a lifetime experience with a one-way ticket of €7.67 and return ticket of €10.22. 
Sarajevo City Pass is the smartest way to explore Sarajevo. This city pass offers Sarajevo's best attractions for free or at a discount. City pass can be bought online and can collect upon reaching Sarajevo International Airport.
Sunday flea markets and thrift stores are Sarajevo's best-kept secret. You can buy old stock from these stores from €0.5. Walking tour across the city from 10:30 in the morning for 2hrs by young energetic guides offers the travellers a lifetime experience for absolutely €0.00. A cheap destination without compromising the European charisma is what Sarajevo is about.
Budget Split-up
Drink/Entertainment: €2-5

Food: €4-10

Accommodation: €6–12

Travel: €5-10

Attractions: €5

Total daily budget: €32
3. Athens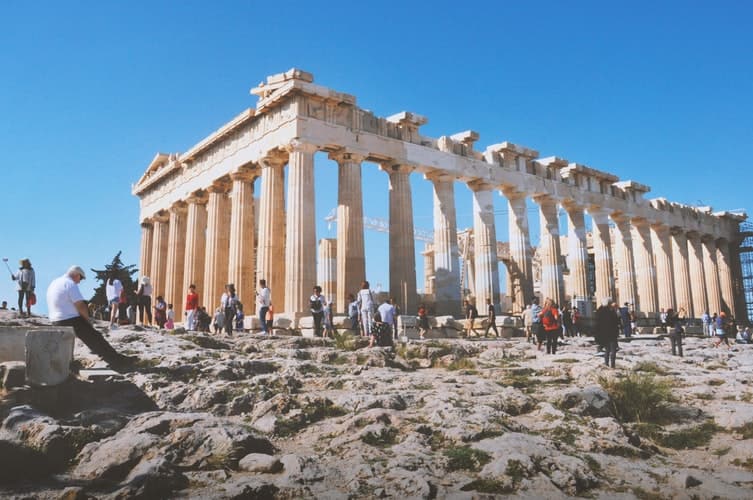 The first European Capital of culture, Athens is the birthplace of democracy, philosophy and drama. Athens is home to world-class cultural heritage attractions. From the iconic Acropolis spread over the city, the majestic Temple of Olympian Zeus, beautiful little village Anafiotika, picturesque neighbourhood Plaka, art galleries that scream ancient traditions and histories, Athens is truly a goddess to all the globetrotters!
There are many budget-friendly options in Athens. Free tour of the city is something which you can do it absolutely free. A free tour is usually conducted by 'This Is My Athens', and 'Athens free walking tours'. Plaka and Anafiotika, the two spellbinding neighbourhoods in Athens with traditional houses, scenic pedestrian streets and charms of the old world is a must experience. 'GPSmyCity: Walks in 1K+ Cities', a free application which can be downloaded from the iTunes App Store or Google Play, offers a self-guided walk through the narrow streets of Plaka and Anafiotika which you can explore on your own. The app works both online and offline, so need not worry about the internet data when travelling.
Athens's blessed topography is an absolute treasure for any nature lover. There are few hills where travellers can climb such as Acropolis Hill, Filopappou Hill and Lycabettus Hill. One can grab a beer from the hilltop and enjoy the splendid view of Athens for free (Sometimes beer could be cheaper than water in Europe! – 5 Reasons why Europe would make the Indian tourist drink tap water!). Yet another tourist attraction worth seeing is the change of guard in front of the parliament at Syntagma Square for spending nothing.
To explore Athens in the cheapest and most convenient way is to get a city pass. This Athens city pass is a boon to travellers on the budget to get almost 50% discount. One can use this pass to get free or reduced fees to visit top sites such as the Acropolis and the Temple of Olympian Zeus which would otherwise cost around €6. Free public transport, high discounts on guided tours and excursions, food and shopping and much more for this city pass!
Budget Split-up
Drink/Entertainment: €7

Food: €15

Accommodation: €18-22

Travel: €3-9

Attractions: €9

Total daily budget: €57
Also Read: 6 Essential Documents You Should Have When Travelling Abroad
4. Lisbon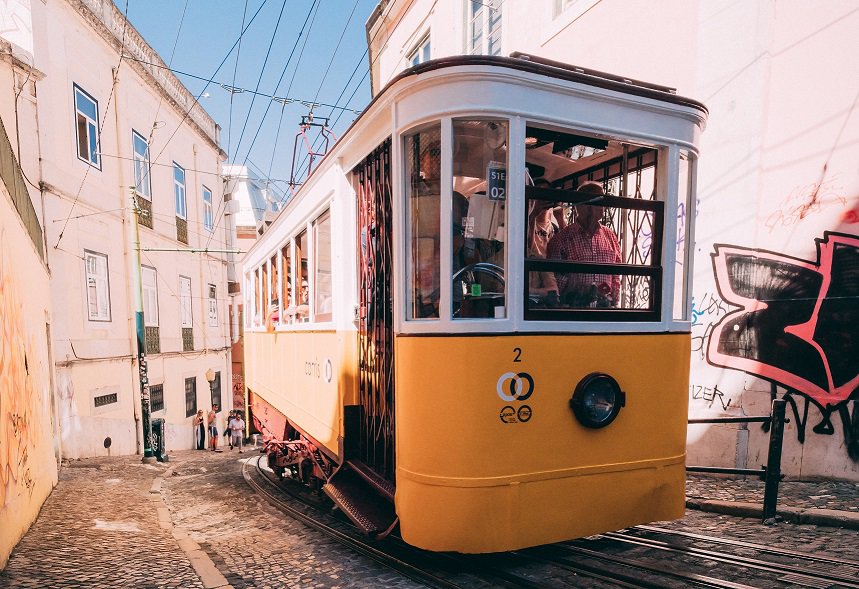 Portugal's capital and largest city, Lisbon is one of Europe's most charismatic and high-spirited city with all the right ingredients to attract travellers. Lisbon is one of the soulful European cities carved on 7 glorious hills with spectacular vistas from every perspective.
Lisbon is a perfect getaway spot with the right amount of calmness and luxury. This Portuguese bliss is blessed with many iconic landmarks such as St George's Castle, Torre de Belém and many more. Torre de Belém is unarguably the most quintessential tower in Lisbon. This architectural marvel is a UNESCO World Heritage Site. St George's Castle, yet another magnificent landmark that soars high above the old Alfama district with pride. Both the landmarks costs around  €6-10 as entrance fee.
Travellers shouldn't miss the ride on tram 28, which is another master dish served in Lisbon style. Tram 28 takes you through the cobbled streets of Graca, Alfama, Baixa and Estrela and it's a journey never to be missed. A single ticket would cost around €3. Beaches of Lisbon such as Caxias, Costa da Caparica requires a special mention as they can take you to the highest level of composure. 
Lisbon city pass is a great way to save both time and money. This card makes the buyer eligibles to get FREE or discounted admission to more than 80 Lisbon museums, sights, and tours. Metro, public buses, trams and funiculars (a special type of railway operated by cable with ascending and descending cars counterbalance) are included in this city pass hence you can travel around for free. There are many more to the wonders of Lisbon which is an injustice to put in words. So just grab your tickets and go!
Budget Split-up
Drink/Entertainment: €5-8

Food: €12-18

Accommodation: €15-20

Travel: €3-9

Attractions: €8-9

Total daily budget:€54
5. Leipzig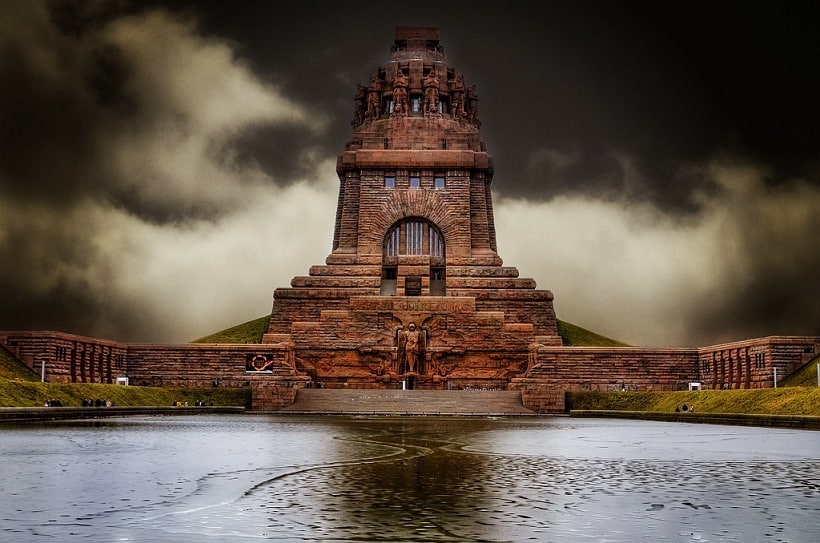 The hidden gem of Europe, Leipzig is Saxony's coolest city. This trade fair centre is an economic power as well as one of the most livable cities in Europe today. Leipzig is a city rich in cultural heritage and traditional architectural wonders. 
Leipzig has an inextricable link with music and hence its a paradise for music lovers. This place is also home to many legendary music composers such as Johann Sebastian Bach, Felix Mendelssohn Bartholdy, Richard Wagner and more. Tourist destinations like Bach museum, Mendelssohn Haus Leipzig are museums that portray the lives of famous composers Johann Sebastian Bach and Felix Mendelssohn Bartholdy. Travellers can witness Mendelssohn's orchestra and be a part of the concerts. Every first Tuesday of the month offers a free entrance to the Bach museum.
With 850 different animal species, Leipzig owns Europe's most modern zoo ranking first in Germany and second in Europe and this is definitely a major tourist spot. This is on the expensive side but with the holiday card of the city Leipzig it's absolutely free to enter the zoo. Churches like St. Thomas Church and St. Nicholas Church are two prominent landmarks of Leipzig that narrates the history and architectural heritage. Tourists can listen to choir boys performing Bach's music in St Thomas Church with an admission fee of €2. Entrance fee to both churches is free. In the centre of Leipzig, travellers can find a plush shopping area called Mädlerpassage with many cafes, restaurants, speciality shops in a luxurious setting. 
Völkerschlachtdenkmal is a mesmerising monument also known as 'Monument to the Battle of the Nations' is yet another tourist landmark in Leipzig. This massive monument weighs 300,000 tons and stands on 65 concrete pillars. An entry fee of 8 Euro is charged but it costs nothing for you take a walk around. 
Leipzig card is your ticket to explore Leipzig in the most affordable way. Leipzig card offers Free travel on all trams, buses and trains, Up to 50% discount or completely free admission to selected museums and exhibitions, reduced entry fee to Festivals, concerts, theatres, as well as variety shows, discounted rates on shopping etc. Leipzig is definitely a  treasure for travellers across the world.
Budget Split-up
Drink/Entertainment: €3

Food: €4-8

Accommodation: €13-18

Travel: €12-16

Attractions: €3

Total daily budget: €42
6. Naples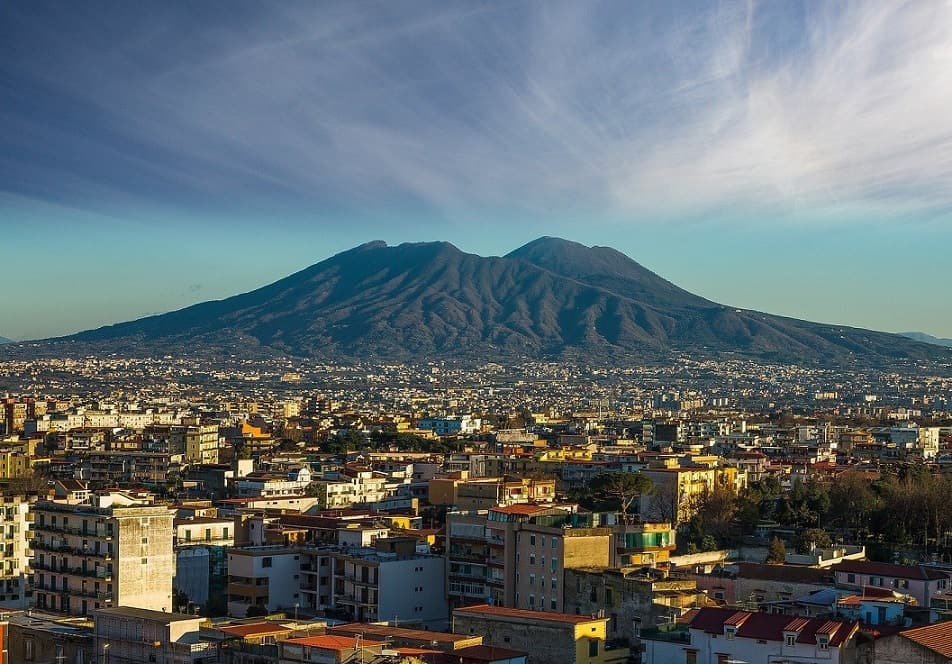 Naples is the true essence of Italy! This place is the epitome of beauty thus the reference "Vedi Napoli e poi Muori! – See Naples and die!." This cheapest city in Italy has many surprises for its visitors. The eruption of Mount Vesuvius in AD 79, one among the deadliest volcanic eruptions in European history impaired the Roman cities of Pompeii and Herculaneum. Preserved ruins of these ancient cities under ash is a unique vision of Roman life which will definitely give chills to its visitors. Both Pompeii and Herculaneum €11 as admission fee.
Home to three spectacular castles, Castel Nuovo, Castel dell' Ovo (known as Egg castle), and Castel Sant'Elmo, Naples can take travellers back to the history that dates back to at least 1275. Castel Nuovo has an admission fee of €6 but Castel dell' Ovo costs nothing as entrance fee whereas Castel Sant'Elmo charges €5 as entrance fee.
Lungomare, a 2.5 km pedestrianised road that spans over a seafront is a perfect spot for a stroll. Travellers can grab a few drinks and can get on the rock beside the stroll way for a sunbathe or can stop over for a sundowner.
 Where else would you enjoy a scrumptious pizza than in its own birthplace? Yes! You read it right, Naples is the godfather of Pizza! We would like to place on record our heartfelt thanks for the greatest inventions we wouldn't otherwise know! You can almost always get a pizza anywhere in Naples for less than €9.07 and we guess you have all the reasons to pack your bag now.
Discover the best of Napoli with Napoli city pass. From free or reduced admission fees to the city's top attractions to discounts at hotels, restaurants, clubs, major transportation sources and festivals or events.
Budget Split-up
Drink/Entertainment: €2-6

Food: €8-16

Accommodation: €10-15

Travel: €3-9

Attractions: €6-10

Total daily budget: €43
So folks, why this waiting? Just pack your bag, book your tickets and leave for the ultimate fun and joy without breaking your bank!
Also Read: How To Avoid 10 Hidden Travel Expenses & Enjoy Your Trip Abroad
Comments