Anything for free is an absolute pleasure for all of us especially for travellers on budget trips. Germany, the heart of Europe has so much to offer without literally spending a single Euro. In this article, we have come up with a list of 10 awesome things you can do in Germany for FREE!
1. Enjoy great music with a vibrant crowd for free! – Berlin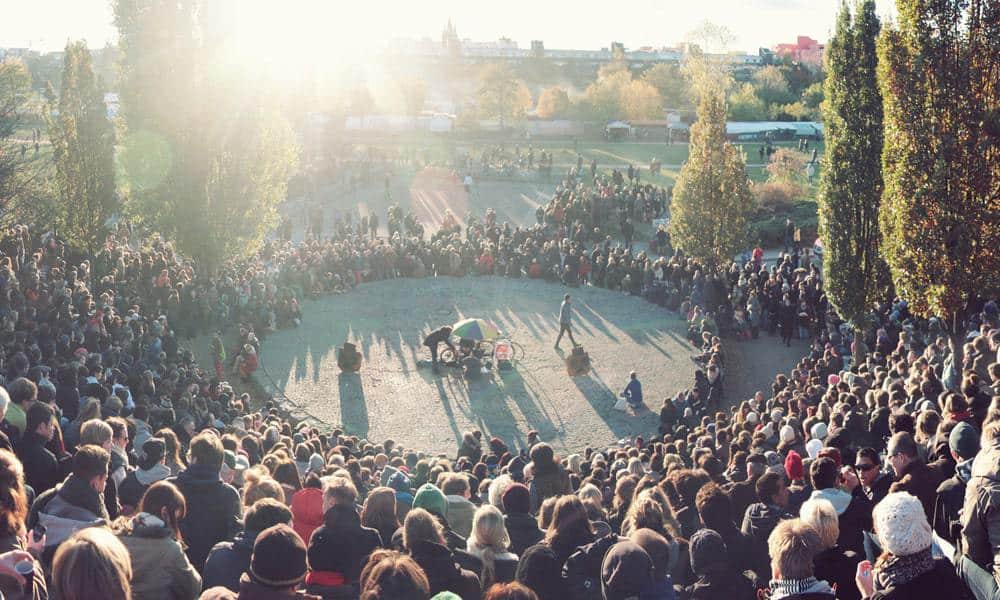 Image courtesy: futurelandscapes
Mauerpark in North of Berlin is the best place to hang out on a warm Sunday with endless options to have fun. It hosts the largest flea market in the city with some amazing stuff to shop around. The most amazing part of Mauerpark is the live karaoke at Bearpit. You can enjoy cool live music performances every Sunday at 3 with a very dynamic, diverse crowd and that too for free! Simply head down to the park, find a picnic spot and grill a meal or sip a beer with your friends to enjoy a perfect Sunday at Mauerpark with great music and incredible atmosphere.
2. Soak in the sights of the East Side Art Gallery for free! – Berlin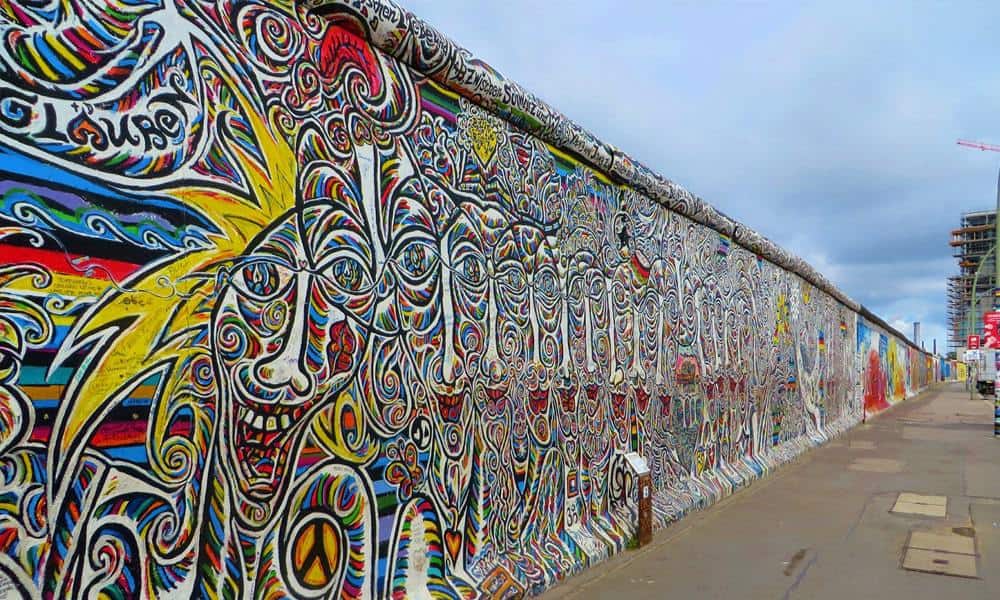 Art galleries around the world usually charge an amount to enter and view their offerings. However, the East Side Gallery in Berlin is 0.8 miles of pure bliss of art and history and it's completely free to boot! It is the longest open-air gallery in the world with 105 mural paintings by 118 artists from 21 different countries on the remnant of the Berlin Wall. A trip to Germany is never complete without a visit to this astonishing gallery where you can see the existing remains of the Berlin Wall.
3. Free entry to "English Garden" one of the biggest public parks in the world – Munich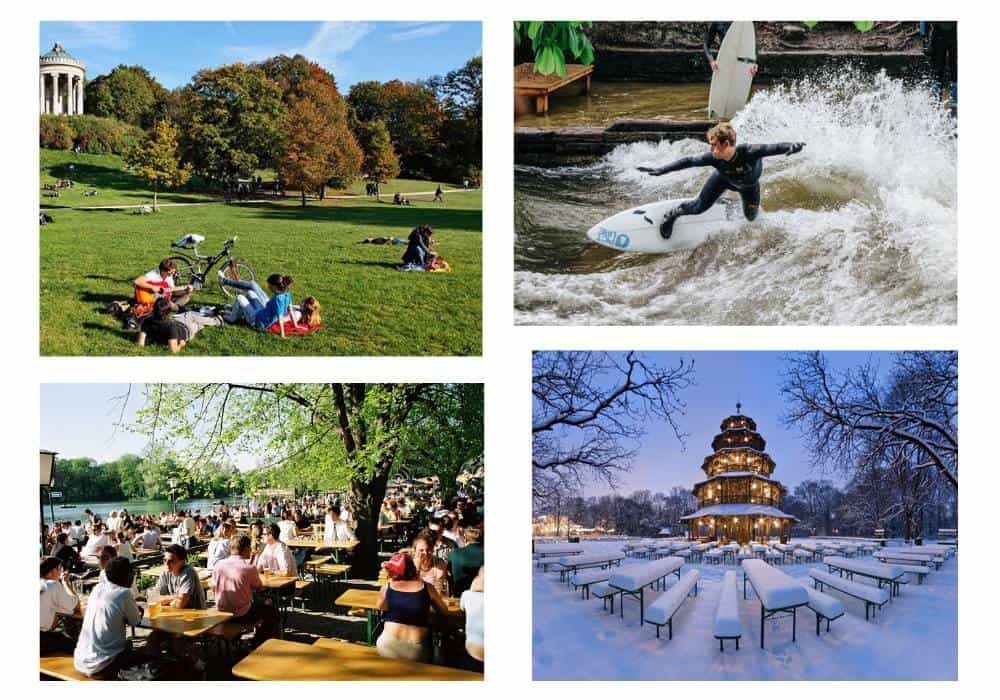 Englischer Garten is one of the world's largest urban public parks and is larger than Hyde Park in London and Central Park in New York. The flawlessly manicured lawns are a perfect spot to relax and chill. Englischer Garten has few signature landmarks you shouldn't miss such as Chinese tower, Japanese Teahouse with stunning views and of course its beer gardens where one can sit and sip their beer in peace. This wonderful green heaven is an ideal place to relax, to picnic and have a stroll along the lake all for free. Also, you can surf or witness other people surfing at Eisbach, the artificial 2km long creek within the park. We promise that is a pretty thrilling experience!
4. Freely visit BMW Welt, an automobile paradise! – Munich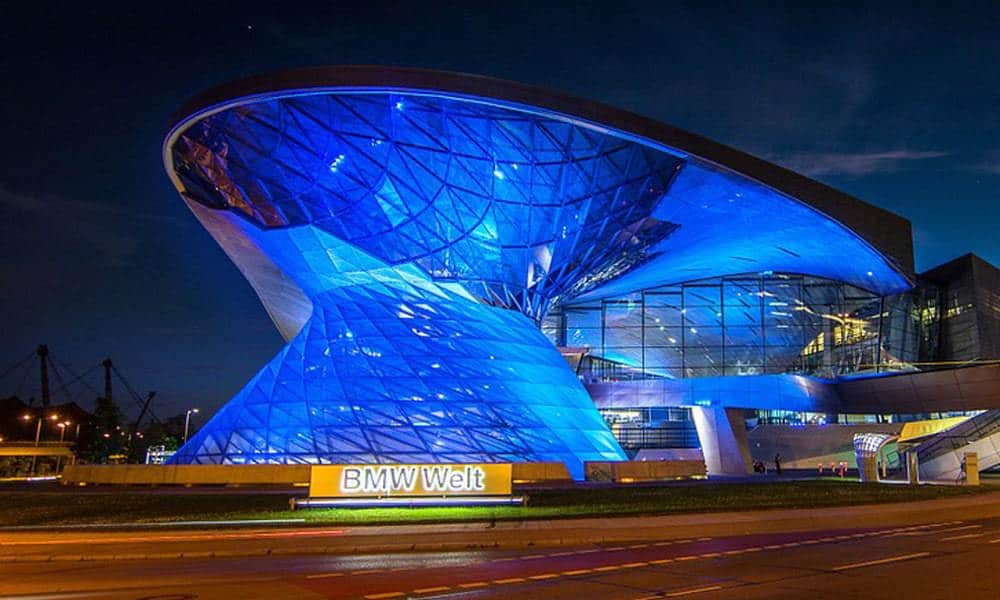 To all the petrol heads out there, this is a dream come true for all of you! BMW Welt is a sight to behold with its entire current products from sedans to Minis, racing cars to electric vehicles and even Rolls Royce coaches. Even if you aren't an automobile junkie, you can still admire the marvellous architecture of this beautiful building by spending nothing! ( BMW Welt is different from the BMW museum. The latter costs €10 as a fee)
5. Enjoy the Mighty Olympic Park and freely listen to concerts! – Munich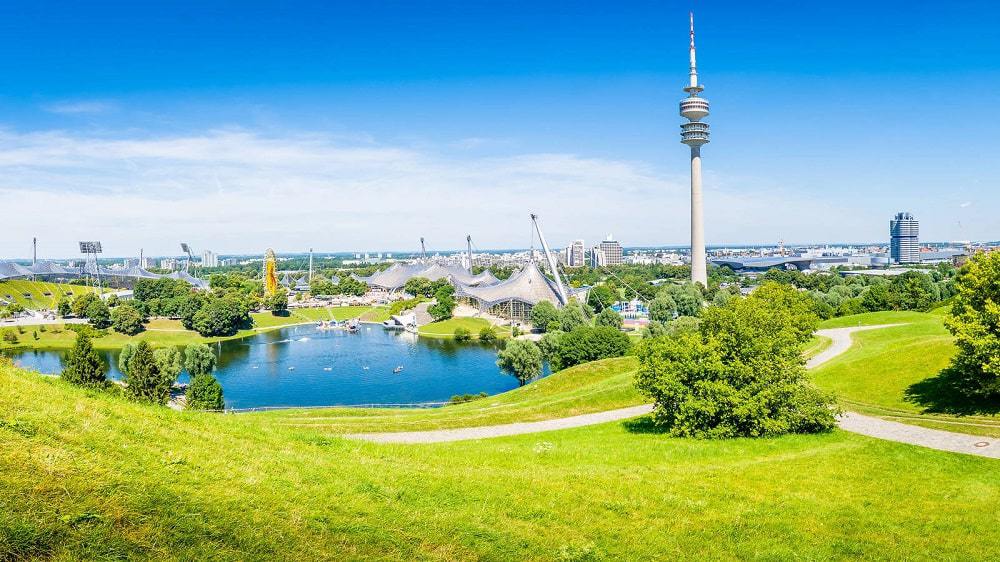 Image courtesy: h-hotels
The venue of the 1972 Summer Olympics is undoubtedly one of the best places to relax and chill in Munich. If you don't want to relax but rather stay active, you can still do a ton of stuff such as boating, touring the football stadium there or cycling through the park. Plan your travel such that you go there in August when the Olympic stadium annually conducts international level concerts with top artists from the music industry such as Beyonce and Lady Gaga. You can also be a part of it without spending any Money! Want to know how? All you need to do is grab some drinks, snacks,  blankets and grab a spot at the top of Olympiaberg hill, a 564-meter high hill within the range of the roofless Olympic stadium to get a clear view of the concert for free! 
6. Free entry to Elbe underground tunnel, an engineering wonder! – Hamburg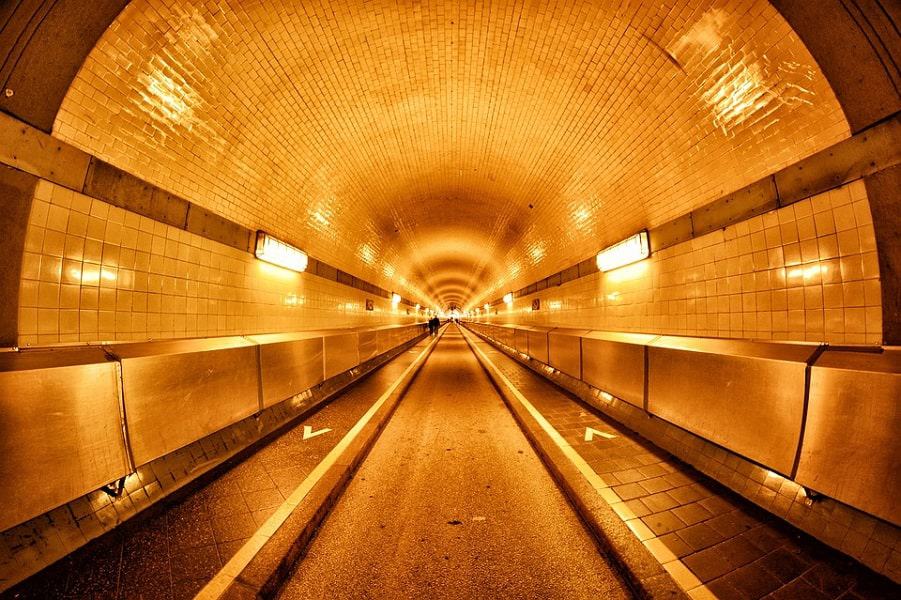 This 100 years old historical gem is 426 meters long tunnel, connecting central Hamburg with the docks and shipyards on the south side of the river Elbe. Huge lifts on either side of the tunnel descend about 4 stories below the ground ferrying pedestrians and motor vehicles to the bottom. The walk from one end of the tunnel to the other is something to experience. This technological sensation connects you to the Hamburg harbour from where you can enjoy the beautiful view of Hamburg city. The tunnel is free to use for everybody.
7. Free entry to Grafenberger wildlife park and zoo! – Düsseldorf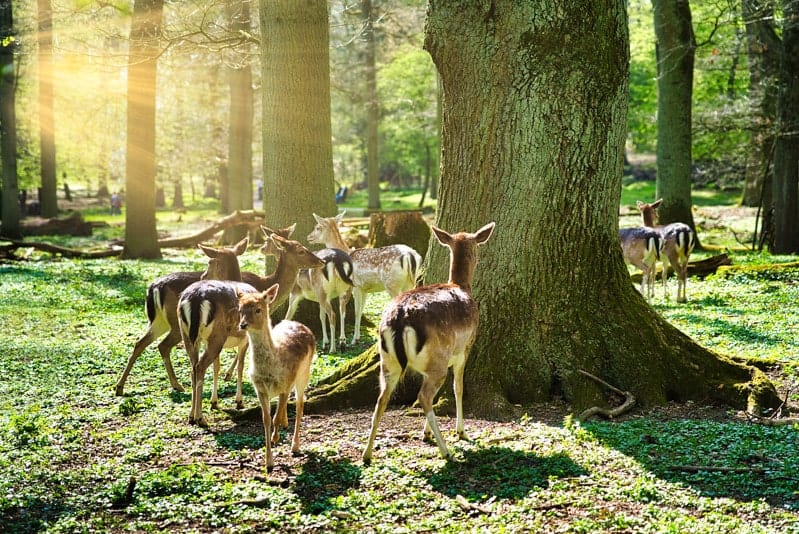 Image courtesy: hiveminer
Home to over 100 species of animals, Grafenberg will definitely be a  family favourite to have a peaceful and relaxing time. There are Reindeers, Deer, Boars, Raccoons, and more. The star attraction is Deers. They follow you around the park and in fact even eat straight from your hand! So make sure you bring fruits and snacks to feed the animals. The park has a separate play area for kids and where they can have a great time. Of course, it goes without saying that this whole experience is free.
8. Freely lock your love at the Hohenzollern Bridge – Cologne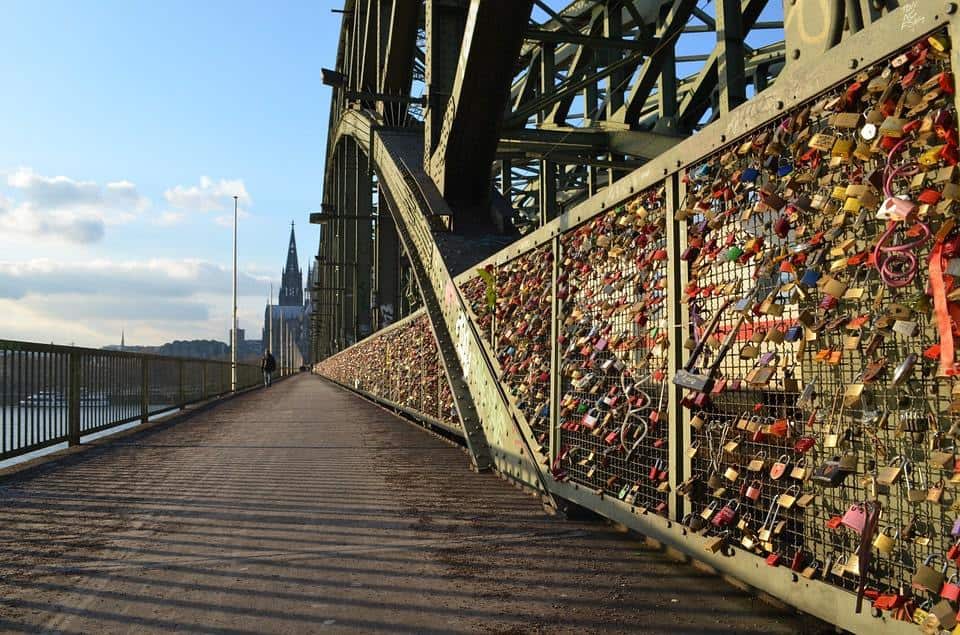 Out of the 7 major bridges that cross the majestic Rhine river in Cologne, Hohenzollern Bridge is the most famous. One, for its stunning location having the magnificent Cologne Cathedral in the background. Two, It's absolutely free to walk over the bridge and add a padlock with the name of you and your loved one. There is something magical about this bridge, holding 40,000+ love padlocks filled with romantic messages, promises, hopes and dreams! 
 9. Free entry to Stuttgart Spring Festival, a festival to rejoice! – Stuttgart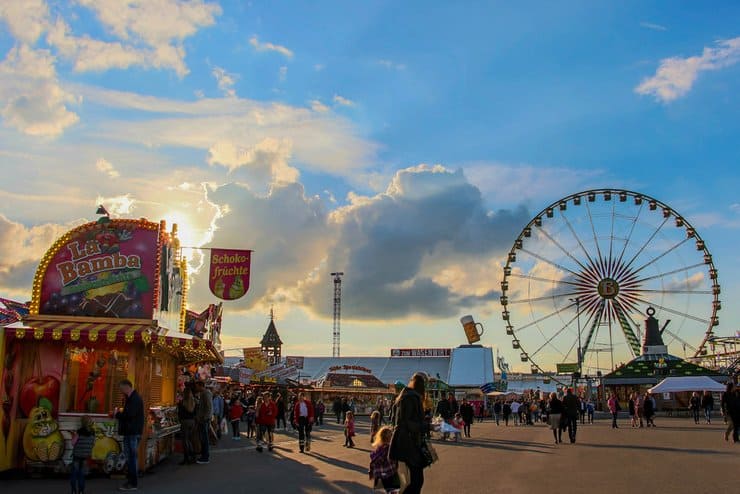 Image Courtesy: rove.me
Stuttgart Spring Festival can be easily summed up in 3 words – Fun, Crazy and Wild! Could you believe being a part of such an awesome celebration of a city for absolutely free? Well you better, because entry is absolutely free! You can just walk in and have fun. Scrumptious foods, Ice cold beer, live bands and DJs, lots and lots of carnival rides, and an amazing crowd elevates the excitement to the next level of fun and frolic.
10. Free guided tour – Cologne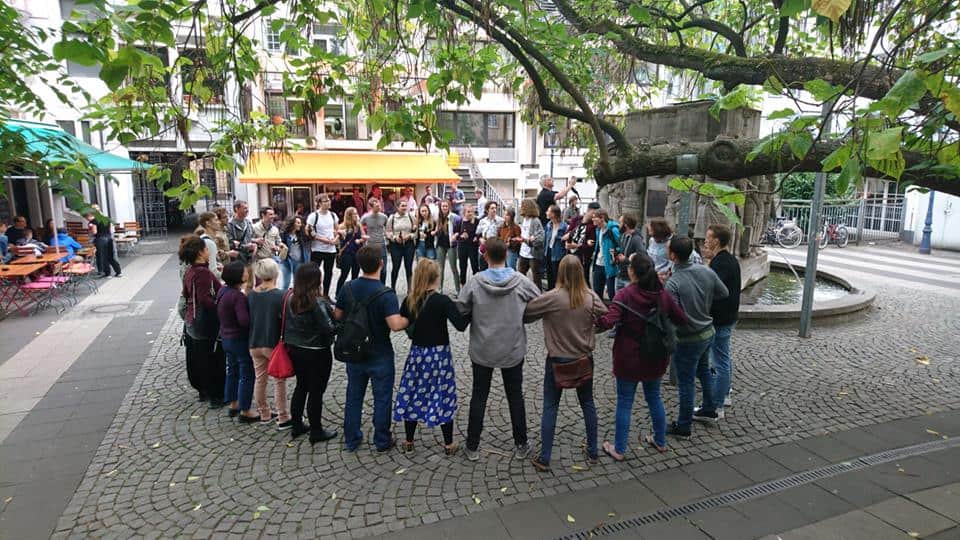 Image Courtesy:  facebook.com/freewalkcologne
Freewalk Cologne is a free walking tour of Cologne city in Germany. Tourists can reach out to Freewalk Cologne through their website and facebook page to get to know the timings of the free guided tour. Join a random bunch of strangers and explore a new city! It's as fun as it sounds. At the end of the walk, you'll end up making friendships with new people and grabbing a photo together. Get to experience the major sights of the city, its local culture and the lifestyle of the people there. You can either hire an English, German or Spanish guide as per your requirement. This is a golden chance for every avid traveller to enjoy and admire the beauty of a foreign city!
The places and activities above-mentioned are just a few. There are many in fact!
Hope this will help many globetrotters who are on a budget to explore Germany for zero Euro!
Comments